Athletics and Activities Blog
December 9 2022,
Athletics and Activities

Jonathan O'Sullivan – Athletics and Activities Coordinator
Dear Chinthes,
There was both heartbreak and elation at the Yangon Athletic Conference high school girls and boys football finals last Friday. Read on to find out more. Our middle school volleyball teams continued on their winning way this week. You can find out more about their recent matches below. Please read the Facilities section below for all the changes to the facilities schedule for the December Holiday. ISY will soon offer community activities and classes. Find out more below.
Upcoming Athletics
Middle School Volleyball
Saturday 10th, December: End of Season Tournament @ Yangon International School
Middle School (MS) Athletics
The girls and boys middle school volleyball teams continue to show off the depth of talent we have here at ISY. On Monday we hosted four teams from International School Myanmar (ISM), the girls and boys A and development teams. As is the trend this season our A teams were able to win both their games. ISM put up a good fight in both games but ISY were able to win both games convincingly.
The development sides were pushed a little harder with ISM winning the girls game. However, ISY got the last word with our boys development team winning their game. It was great to see all the players getting some valuable court time.
On Wednesday ILBC International School hosted our A and development teams. Again, ISY were able to show the skills that all the players have been learning and practicing over the season. ISY played very well across all four teams to come out with four wins.
The next big challenge for the A teams is the Yangon Athletic Conference middle school volleyball season ending tournament. The tournament is being held at Yangon International School this Saturday from 8:00AM – 12:00PM. We wish our young athletes all the best for this event.
The middle school football season will start in the first week back to school after the New Year. The first training will be on Wednesday the 11th of January. Signup sheets will be outside the gym next week.
High School (HS) Athletics
Football
I have said it in the past that sport can be cruel at times and then be very rewarding in the same day. That was the case for our high school football teams last Friday.
Our high school girls football team was in the playoff game for 3rd and 4th. Some would say, and I am one of them, that they deserved to be in the championship game, but sport does not always go to plan. Their opposition was Yangon International School (YIS), who also would have been favored to play in the championship match. This game was always going to be a highly contested match with not a lot separating the teams.
After a tight opening where both teams had opportunities it would be YIS that opened the scoring with a goal against the run of play. For the whole game the ISY defenders played well and worked hard so it was disappointing for the girls to let this goal get through. However, to the girls' credit, they continued to play hard and give it their all. Half time came and the scores remained 0-1.
It would be the second half that provided all the controversy. ISY had the run of play in the second half. The girls should have been rewarded for all their hard work with an obvious handball penalty. For reasons only known to the ref it was not awarded. This was a bitter blow for the players, but like they have all season, they picked themselves up and carried on trying hard right through until the final whistle. Unfortunately the score remained 0-1 to YIS at full time.
The HS girls football team has come a tremendous way this year and next year should be even more promising for this young team.
The boys final was a bit more of a celebration for this team that has played so well all season. Although it was tight in the opening exchanges, ISY started to show its class. With a couple of goals in quick succession, this turned the tide firmly in ISY's favor. ISY ended up runout winners 6-0 at full time.
This was a dominant display for a team that has only gotten better as the season went on. This will be another team to watch next year as most of this squad will be back next year.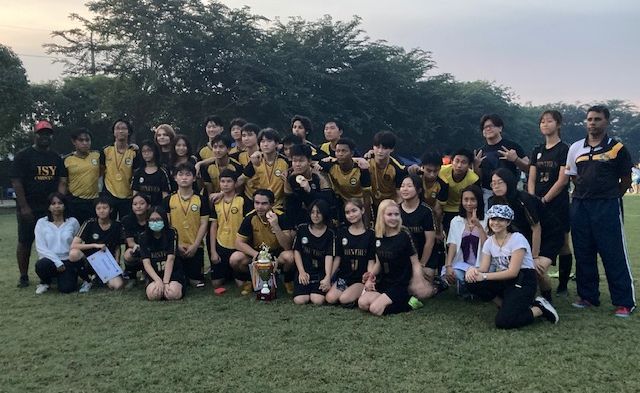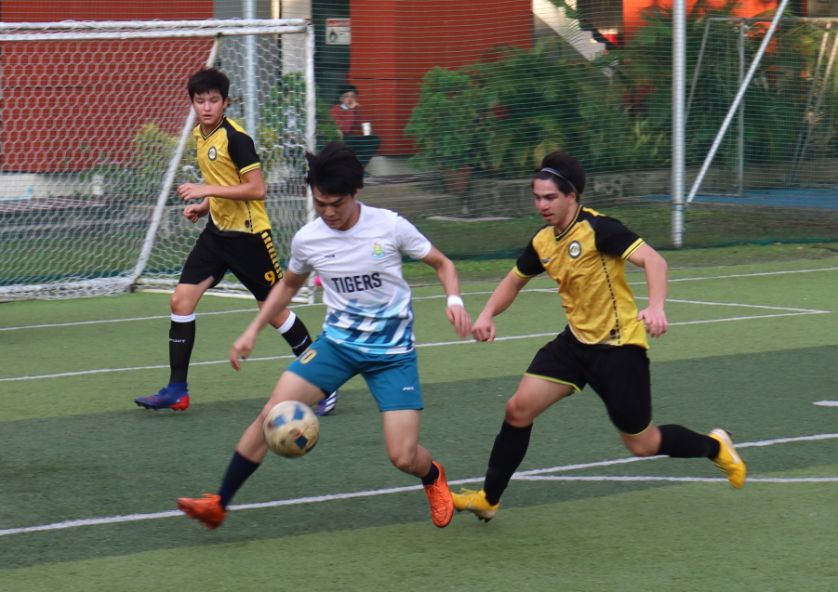 Community Activities and Classes
The Athletics and Activities Office would like to start offering classes and activities to ISY parents and staff. These are planned to start sometime after December break. To create this program we would like to hear from you concerning the classes you enjoyed from the past and also hear about new ones you might like to try. We have listed some of the programs we have offered before and also some new ones we are considering. Please fill out this form to let us know your interests.
Facility Schedules
Over the December Holiday the facilities schedule will change slightly.
On December 22nd and January 4th the pool and gym will be closed for public holidays, however the weights/fitness room and outdoor areas will remain open as normal.
From December 17th to January 8th, the pool will be open from 8 AM to 12 PM. All other areas will be open as normal.
Schedule from 17th Dec to 8th Jan
Fitness Room: Open as usual
GYM: Open as usual but closed on public holidays
Pool: Open until 12 noon and closed on public holidays
Outdoor: Open as usual
This is just a reminder that our facilities booking form and Liability waiver form, are now combined on the same form for ease of use. Please remember that to use any of ISY's facilities you must fill out the booking form.
Regular Schedule

Swimming Pool
Mornings
Open 6 – 7:30 AM Monday – Friday
Afternoons
Monday 5-6 PM
Tuesday 3:30-6 PM
Wednesday 5-6 PM
Thursday 3:30-6 PM
Friday 5-6 PM
Weekends
Open Saturday 8 AM – 12 PM
Closed Sunday
(Please note to use the Swimming Pool you must book your place)
Fitness/Weights Room
Weekdays
Closed 7 AM – 2:30 PM (School hours)
Weekends
24 hours (Please note to use the Weights/Fitness Room you must book your place)
**Please note** The Fitness/Weights Room is busy with a lot of equipment in it. Could all users please tidy up after themselves. This means wiping down equipment after using them and returning all weights and moveable equipment back to its correct place. This will make for a much more pleasant experience for everyone!
HS students may use the Fitness/weights Weights Room unsupervised.
MS students may use the Fitness/Weights Room only with adult supervision.
ES students are not allowed in the Fitness/Weights Room.
Outdoor Areas
Weekdays
Monday, Tuesday, Wednesday, Thursday and Friday 3:30 – 6 PM
The Field
Tuesday, Wednesday and Thursday the field will be used until 5:30 for ISY sports teams practice.
(Please note that to use the Outdoor Spaces you must book your place)
Weekends
8 AM – 6 PM
**These times may change once more sports start up at ISY**
Swimming/Aquatics
Repeated Notice
Our wonderful head swimming coach, Coach Moe, will be leaving ISY at the end of December. She will be moving to Malaysia and has secured a job as a swim coach there. I am sure that everyone in ISY will join me in wishing her the best of luck in her new job and life.
ISY is hosting a farewell party for Coach Moe on the 10th of December from 11AM-1PM. There will be some fun pool games and fun races. Everyone is invited to come and show their appreciation of Coach Moe and what she has done for the ISY swim program.
With Coach Moe moving on, ISY has been searching for the best person to fill her place. I am pleased to announce that ISY has secured the services of a new head swim coach. The new head coach will be Coach Chu. She will take over the role in January but will start at ISY on Monday so she can get a chance to familiarize herself with the ISY swim program before Coach Moe leaves. Please pass by the pool and introduce yourself to Coach Chu.
Coach Chu is a former national swim team member. She is a certified International Swimming Coach, awarded by the ITK Internationaler Trainer Kurs, from the University of Leipzig, Germany. Coach Chu has a Bachelor Degree of Science focusing on Sports. She also comes to us with 17 years of experience in swimming and swim coaching.
Swim Team
Over the December break the pool will be open from 8AM-12Pm. Swim team members can book a time in the morning and come in and do their training workout. The swim team workouts will be posted on the white boards by the pool for team members to follow. One of our coaches will be there to help you as well.
After School Activities: ASA
After school activities have finished for the first session. The next session will start at the end of January. Please look out for more information about ASAs in January.
Questions or More Information
As always, if you have any questions about what is in this blog or anything else that you may think of related to activities or athletics please feel free to contact me at:
Kindest regards,
Mr. Jonathan O'Sullivan
The International School Yangon
20 Shwe Taungyar Street
Bahan Township
Yangon, Myanmar
+95 (0) 9 880 441 040