Athletics and Activities Blog
January 20 2023,
Athletics and Activities

Jonathan O'Sullivan – Athletics and Activities Coordinator
Dear Chinthes,
ISY welcomed the New Year with a friendly elementary school football tournament last Saturday. A full writeup on the day's action is below. There were also two very competitive matches of high school basketball on Tuesday. Please continue reading below for a full report of both games.
Today, Friday the 20th, information for the new session of after school activities is available. Please read below for more information and the link to the what, where, when, and who for all the after school activities offered this session.
The ISY Olympiad 2023
"The greatest day of the year" Unknown ISY Student
This year's Olympiad lived up to its reputation as the greatest day of the year. ISY's grade 2-12 students came together for one of ISY's special events. The students were formed into 10 teams with an even mix of ages. The teams were captained and led by the ISY seniors.
This event is aimed at fun and teamwork, however, there are points involved. The points were allocated for team spirit, the ability for each team to do each activity and Chinthe points. Chinthe points were for teams that demonstrated the ISY Learner Attributes.
The seniors are traditionally the group that leads this day. They are incharge of organizing their team chants, keeping the spirit up within each team and being general role models for all the younger students at ISY. I want to especially thank our seniors for showing us all what it means to be an ISY Chinthe.
Upcoming Athletics
Middle School Football
Wednesday 2:40-3:25 PM: Training for boys and girls
Friday 3:10-3:55 PM: Training for boys and girls
Friday 27th, January: Girls and boys Vs Yangon International School @ ISY
Tuesday 7th, February: Girls and boys Vs Yangon International School @ YIS
High School Basketball
Tuesday 24th, January: Girls and boys Vs ILBC International School @ ISY
Thursday 2-5th February: Girls and boys SEASAC Tournament
Tuesday 7th, February: Girls and boys Vs International School Myanmar @ ISY
Elementary School Athletics
Last Saturday our younger athletes at ISY had a chance to show off their football skills. International School Myanmar hosted an elementary school football friendly tournament. The young athletes played in two teams, a grade 2 and 3 team and a grade 4 and 5 team. These teams played round robin games against other schools from around Yangon.
The athletes played hard and did their best for the whole day. Our grade 4 and 5 team only lost one game and the grade 2 and 3 team drew many but didn't lose any games.
However, the emphasis on this day was for fun and I think both teams were very successful in this.
Well done to our young football players at ISY.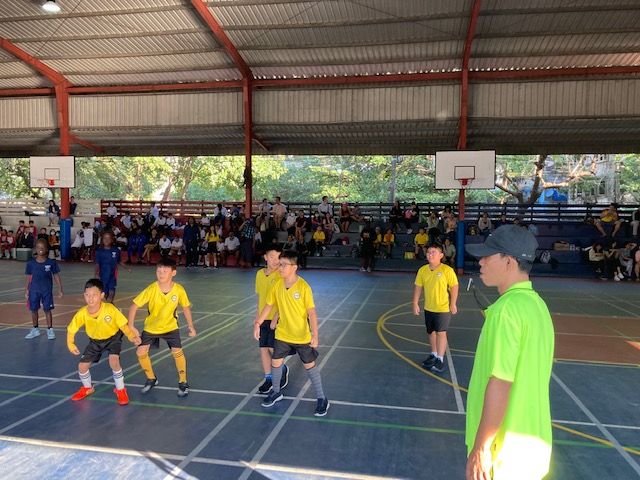 After School Activities: ASA
The new session of after school activities (ASAs) will start on Monday the 30th of January. The process will be much the same as last time with one very important change. This time, on the first day of sign-ups, students will only be able to sign-up to two activities. On the next day of sign-ups students will have no restrictions on how many ASAs to choose.
After School Activities Days, Dates and Actions:
Monday the 23rd, at 7:00PM the sign-up system will be opened for two ASAs per student.
On Tuesday the 24th at 7:00PM, the sign-up system will be opened for any more
ASAs that a student would like.
On Wednesday the 25th at 7:00PM the signup system will close.
On Thursday after 5:00PM parents will be able to access Power School and view their child(ren)'s after school activities schedule.
Here is the link for the after school activities information. Please read this before Monday and have a talk with your child(ren) about what activities they are interested in.
Middle School (MS) Athletics
Middle school football training continued this week with an emphasis on our first game next week. On the 27th of January the middle school girls and boys teams will play at home against Yangon International School. The games will start from 3:30.
It is not too late to join the girls and boys football squads. If you are interested please come to football training on the field at 2:40 on Wednesday.
High School (HS) Athletics
High school basketball has well and truly started. Our girls and boys high school basketball teams traveled to ILBC International School on Tuesday for two highly competitive matches.
The boys played first in front of a packed ILBC gym. There were some nerves to start with as the scores were close after the first quarter. However, the ISY spirit and fight started to show and our boys calmed themselves down and played to their potential. The boys ran out comfortable winners in the end.
It was a similar story for the girls team as they showed some nerves going into the first quarter. Once the girls found their rhythm they ran out to a strong lead. However, with a few factors against ISY, ILBC clawed their way back to be equal going into the third quarter. ILBC then had a good run of scoring at the start of the fourth quarter.
It was troubling times for the girls until they found some form of their own to bring ISY to within one point, with 20 seconds to go! ISY gained possession and had one last chance to win it. The final shot looked a good one but it just bounced out and then the final buzzer went. ISY lost by one point.
The girls will be looking for redemption this Tuesday, the 24th of January, as ILBC will send their girls and boys teams back over here for the return match. I know our girls will be looking forward to that one.
Tennis Court
The tennis court is located at the top of the West side of the SAS building. This facility is for all ISY community members to use. To use this facility you will need to make a booking using the ISY Facilities booking form. The tennis court will be available all day Saturday and Sunday and after 2:30PM on school days. For safety, elementary and middle school students will need to be accompanied by an adult to use the court.
The court is available to book now.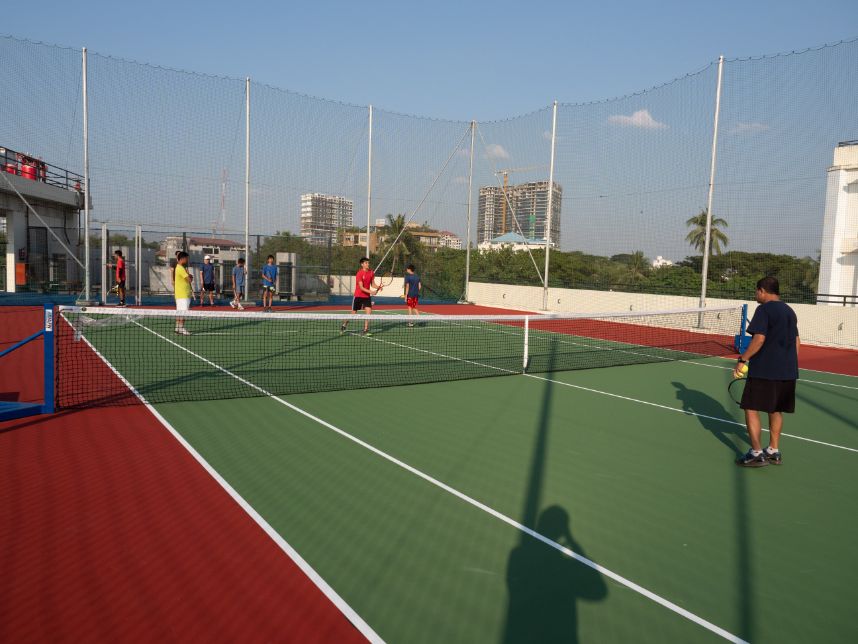 Swim Team
The swimming team will continue their training this new year. The secondary school team trains on Monday, Wednesday and Friday and the elementary school team trains on Monday and Friday.
It is not too late to try out for the swim team. If a student is interested they can talk to Coach Chu Chu and arrange a trial swim. All competent swimmers are welcome.
Facility Schedules
The facilities schedule has returned to normal after the December break.
Please remember that if you want to use the new tennis court you must make a booking.
Please remember that to use any of ISY's facilities you must fill out the booking form.
Tennis Court
Weekdays 2:30-6:00PM
Weekends 8:00AM-5:00PM
(Middle and elementary school students need to be accompanied by an adult)
Swimming Pool
Mornings
Open 6 – 7:30 AM Monday – Friday
Afternoons
Monday 5-6 PM
Tuesday 3:30-6 PM
Wednesday 5-6 PM
Thursday 3:30-6 PM
Friday 5-6 PM
Weekends
Open Saturday 8 AM – 12 PM
Closed Sunday
(Please note to use the Swimming Pool you must book your place)
Fitness/Weights Room
Weekdays
Closed 7 AM – 2:30 PM (School hours)
Weekends
24 hours (Please note to use the Weights/Fitness Room you must book your place)
**Please note** The Fitness/Weights Room is busy with a lot of equipment in it. Could all users please tidy up after themselves. This means wiping down equipment after using them and returning all weights and moveable equipment back to its correct place. This will make for a much more pleasant experience for everyone!
HS students may use the Fitness/weights Weights Room unsupervised.
MS students may use the Fitness/Weights Room only with adult supervision.
ES students are not allowed in the Fitness/Weights Room.
Outdoor Areas
Weekdays
Monday, Tuesday, Wednesday, Thursday and Friday 3:30 – 6 PM
The Field
Tuesday, Wednesday, Thursday and Friday the field will be used until 5:30 for ISY sports teams practice.
(Please note that to use the Outdoor Spaces you must book your place)
Weekends
8 AM – 6 PM
**These times may change once more sports start up at ISY**
Questions or More Information
As always, if you have any questions about what is in this blog or anything else that you may think of related to activities or athletics please feel free to contact me at:
Kindest regards,
Mr. Jonathan O'Sullivan
The International School Yangon
20 Shwe Taungyar Street
Bahan Township
Yangon, Myanmar
+95 (0) 9 880 441 040