Elementary School Blog August 30

Sandy Sheppard, Elementary School Principal
Dear Parents,
Thank you for the great turn out at the Back to School event this week. We appreciate you taking the time out of your busy schedules to join us. A good home and school connection is so important for student learning. We want to continue to ensure positive relationships and opportunities to connect with all our families.
Ms. Sandy Sheppard
"We have to reinvent the wheel every once in a while, not because we need a lot of wheels; but because we need a lot of inventors"
Bruce Joyce, Educator
The Kelso Choice Wheel
We support our students at recess time by encouraging them to use KELSO Choices.
Reminders
Monday is a holiday, we will see you back at school on Tuesday the 3rd of September.
Office Numbers
The Elementary School office contact numbers are as follows: 512793, 512794, 512795, 539447, 539448. We have two secretaries – Ms Delphine and Ms Esther to assist you.
Lost Property
Lost property has been relocated to shelving in the school basement level. It can be accessed through the middle steps in Block A. Daily lost property is kept in a container outside the ES Office for one day before being moved.
Reporting
This year the Elementary School will report student progress each quarter as follows:
Quarter 1 – progress reports/parent conferences
Quarter 2 – report cards
Quarter 3 – progress reports/parent conferences
Quarter 4 – report cards/student led conferences
We hope you find the frequent communication on student progress informative.
Dates to Remember
2nd September – No School
2nd September – ISY Nay Pyi Taw Open House
20th September – Half day of school (11:30 finish Prek/KG and 11:45 finish Grade 1-5)
Previous Elementary School Posts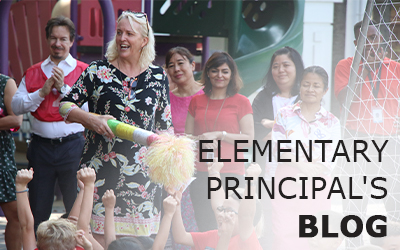 Next week will be our last full week of school. There will be slides up until Thursday. On Friday the 5th of June there will be no slides, the teams will have conferencing type activities planned, they will communicate these to you. Report cards will go home on Thursday the 4th of June.
The International School Yangon
20 Shwe Taungyar Street
Bahan Township
Yangon, Myanmar
+95 1 512 793 /94 /95