Elementary Principal's Blog

Sandy Sheppard, Elementary School Principal
Mission
The International School Yangon is a community of compassionate global citizens.
Vision
We aim to develop lifelong learners who will be a force for positive change in the world.
Dear Parents,
Another busy week at ISY. We have lots of activities happening at school. Read below our first book review from a group of Grade 3 students who this week reviewed a book on peace at our recess activity.
The Student Council are busy planning for our first assembly, which will take place next Friday. This is a student community-building event. We are also planning our traditional Halloween parade, which happens at the end of the school day, so start talking to your children about the outfits they might like to wear.
Thank you to those who participated in our Back to School survey; the information is important to us to support our planning for next year's event. It seems like most people enjoyed the format, especially the opportunity to meet with the specialist teachers informally.
MAP testing has been taking place this week. Please read below for more information.
We thank you for your continued support.
Ms Sandy Sheppard
Elementary School Principal
Monday Math Challenge
We started Monday's Math challenge this week. This takes place during break times. A board with questions is placed outside my office, which students can choose to answer. The students who take part and answer correctly collect stickers, four stickers, and they join me for a special lunch.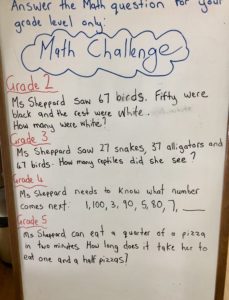 Map testing: September 12-23
From Monday, September 12, until Friday, September 23, we will be MAP (Measures of Academic Progress) testing in Grades 2 to 9. MAP assessments are online adaptive assessments that provide useful data in developing a fair and accurate assessment of a student's academic achievement and growth. The assessments provide useful data for us in adapting and improving our curriculum.
Grade 2 to 9 students will be tested in Mathematics, Reading, and Language Usage. To ensure a fair and accurate assessment of a student's academic growth and achievement, teachers combine MAP assessment data with all other student data that they have collected in classes. This combination of data informs teacher instruction in meeting the needs of each child. MAP assessment data is not the basis for a student's academic grade as reported in Semester Report Cards.
If you have any questions about MAP testing, please do not hesitate to contact Mike Simpson at msimpson@isyedu.org.
Turnstiles
The students will soon be receiving their Identification bracelets. They will need to have these every day so that they can enter through the school's turnstiles. The turnstiles will be activated again on October 24th.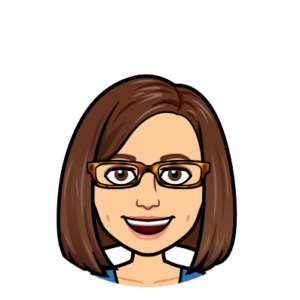 COUNSELOR'S CORNER
Powerful Words
Language is powerful. It expresses emotion, thoughts, beliefs and ideas. As children explore language, they experiment with words, seeking understanding and trying out how to use them properly. In this experimentation, they can stumble upon words, such as swear or curse words, that you may feel are inappropriate. So how do you as a parent respond when your child repeats words or phrases they have heard that are meant for more mature listeners?
Remain Calm: Most children stumble upon inappropriate words through social media or popular music and are seeking to try them out to see what type of reaction they get from their use. A strong reaction will bring unwanted attention to the word and your child may be more tempted to repeat them to achieve that strong response.
Explain your Beliefs: Share with your child your family's beliefs about inappropriate words. Who, when or why might someone in your home be permitted or not permitted to swear? Explain your family's values about swear words.
Define: Often children don't understand the meaning of these words but understand they get a strong reaction. Using age appropriate explanations can help your child understand them and why they are not appropriate.
Offer Alternatives: Great creative and brainstorm a list of words with your child that can be used in times of frustration or excitement.
If you have other questions or concerns regarding your child, please feel free to reach out to Ms. Patty at escounselor@isyedu.org. As the elementary school counselor, she is available to all ISY families for support.
DATES TO REMEMBER
October Break – Begins on the 10th of October; we will resume school on the 17th of October
26th November – International Day event
*There will be a Halloween event in November, more information to come.
UNITED NATIONS SUSTAINABLE GOALS
BOOK CLUB
Book Review:
We read the book 'Let There Be Peace on Earth by Jill Jackson & Sy Miller. We thought the book was so colorful and had pretty designs. Along with this, the book had a good message about peace. The book is a song, and we tried singing the words. The book does not have many words, so we think it would be good for Kindergarten students.
Fardou, Midori and Annalena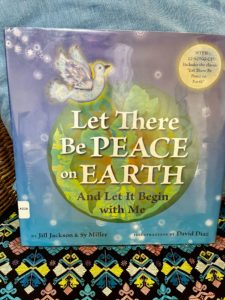 BIRD WATCHING!
We have a new television screen on the top floor of the B Building. This TV is linked to a camera in a bird box. We are hoping to be able to watch birds building nests etc in the coming weeks.
PARENT ASSOCIATION BOARD
Welcome to our Parent Association Board members
Mon Paing Zar – President
Jibkwon Jeong – Vice-President
Lwin Mon Thant – Treasurer
Paula Gil Baizan – Secretary

/ Parent Liaison
The International School Yangon
20 Shwe Taungyar Street
Bahan Township
Yangon, Myanmar
+95 (0) 9 880 441 040