Parent Teacher Conferences
Mike Simpson
Secondary School Principal
November 16, 2022
It was great that so many parents were able to meet in-person with their child's teachers today. If you were unable to attend Parent Teacher Conferences, please know that you can contact our teachers at any time throughout the year to discuss your child's progress. Our partnerships with our students' families are very important to us.
We wish you all a relaxing holiday weekend.
Student Dress Code
In the absence of a school uniform, ISY students are expected to demonstrate pride in themselves and in their school by their manner of dress and appearance.
Clothes, make-up, and hairstyles shall be neat and clean. While we want students to be able to express themselves, students need to dress practically for all learning activities and with respect to the diverse cultural norms of an international learning community. Clothing and jewelry with drug, tobacco, alcohol, or other questionable, inflammatory or inappropriate slogans or pictures are unacceptable.
Healthy Eating
A healthy diet helps a child learn, so we encourage and support parents to provide healthy food options for their children. Please note that we ask students not to chew gum.
Also, we have two vendors on campus who are offering healthy meat-free food choices. If you would like to send food from home, we encourage these to be healthy food choices; fast food is not encouraged. Food sent should be for your child only.
No School Tomorrow (Thursday) and Friday
Also, please note that the last day before our December break will be Friday, December 16th. To confirm, this will be a full normal day of school and not a half day.
International Day
Saturday, November 26
3pm to 8pm
The ISY Community will be hosting our annual International Day on the 26th of November from 15:00 – 20:00. This is a chance to celebrate and share in the rich diversity of our school. See the poster below for a schedule.
Thanks to all the parents and students who have donated raffle prizes so far and the parent association would love to see more come in. Prizes can be dropped off in the B Building on campus or given to Lwin Mon Thant (thant.lwinmon@gmail.com).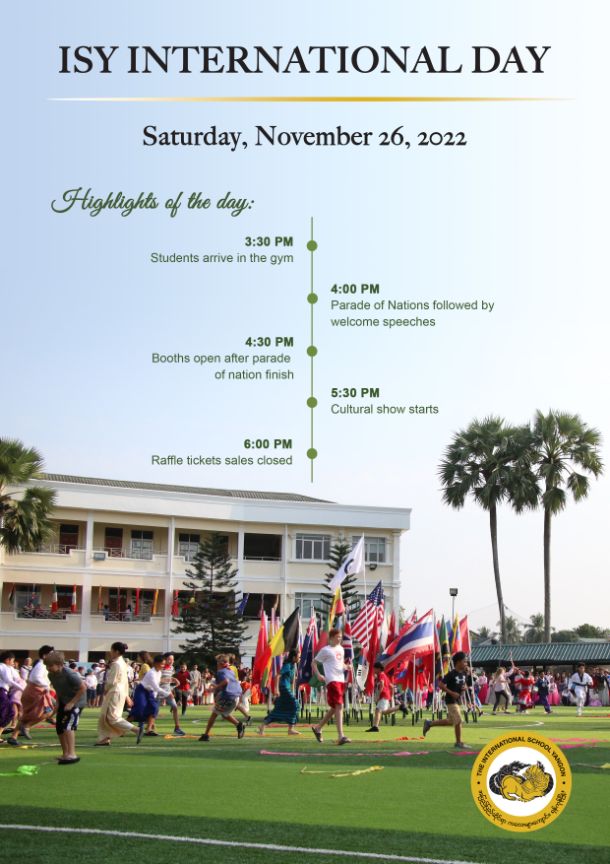 The International School Yangon
20 Shwe Taungyar Street
Bahan Township
Yangon, Myanmar
+95 (0) 9 880 441 040