Elementary Principal's Blog

Sandy Sheppard, Elementary School Principal
Dear all,
A big thank you to our wonderful Parent Association and all our wonderful parent helpers for the special games and activities to celebrate the end of Spirit Week. The students had a lot of fun participating, and also in parading in their costumes. Thank you for making it such a special day!!!
Progress Reports are available today, and Parent Conferences are on the 8th; remember to sign up.
Have a wonderful weekend.
Ms Sheppard
PROGRESS REPORTS
Your child's Quarter 1 Progress Report is now available on PowerSchool. The purpose of this report is to provide a summary of what has been covered this Quarter. Keep in mind this is a progress report; in the next round of reporting, you will receive a report card.
If you have any questions relating to your child's progress reports, please email your child's teacher(s) for clarification. If you have any questions regarding the reporting process in general, you can contact Ms. Sheppard at ssheppard@isyedu.org.
Accessing PowerSchool:
Click the following link to access PowerSchool
Enter your username
Enter your password. If you have forgotten your username and password, contact powerschool@isyedu.org for assistance.
Click on the login button.
Accessing your child's Quarter 1 Progress Report:
Once you log in, you will see your child/children's name on the left-hand side top of the screen.
Click on your child's name.
Click on the "Document" icon on the left side of the screen
The student Documents box will appear on the screen
Click on the file name "Q1 Report Card 23-24"
If you have difficulty accessing your child's report, please know that you can contact the office by emailing elementaryoffice@isyedu.org for assistance.

International Day
International Day will take place on Saturday, November 18th. Students are expected to arrive at 3:30 p.m. and go straight to the gym to prepare for the Parade of Nations, which will start at 4 p.m.
Between 4:45 and 5:30, the country booths will open, where you will be able to sample food and culture from around the world.
The Cultural Show will start at around 5:30 PM with performances from students in many Grade levels. The show is expected to finish around 7:00 PM. There will be a full Cultural Show dress rehearsal on Friday, 17th November, after school.
Raffle tickets are on sale now for 2,000 Ks. each and can be bought at the business office or through Parent representatives.
Raffle prizes are still being collected. The raffle raises money to be used by the Parent Association to support student activities.
Thank you to all the parents and students who have donated raffle prizes so far. The parent association would love to see more come in. 
Prizes can be dropped off in the B Building on campus or given to Crystal Win (09- 5165638).
Contact Ms. Crystal Win mpinkycrystal@gmail.com for more information.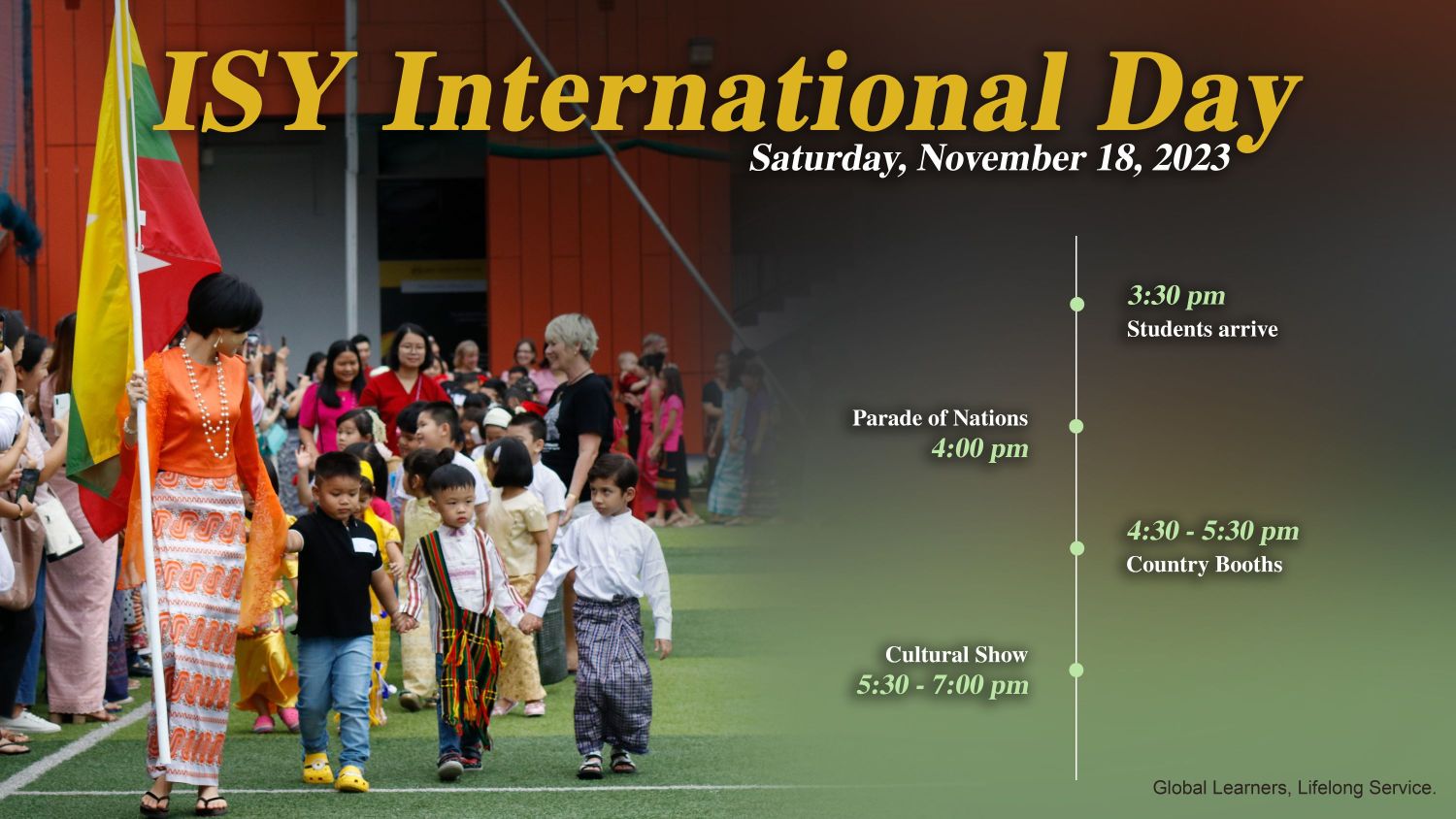 MAKE SURE YOU READ ALL THE INFORMATION ABOUT INTERNATIONAL DAY
MOVIE NIGHT
The Elementary Student Council is hosting a Movie Night on Friday, November 10th at 5:30 PM.  Students and their families are invited to watch Super Mario Bros. Movie in the lower courtyard.  Admission donations are encouraged to support the ISY Chinthe Fund.  Snacks and juice will also be sold.  All profits will support our ISY service-learning partnerships.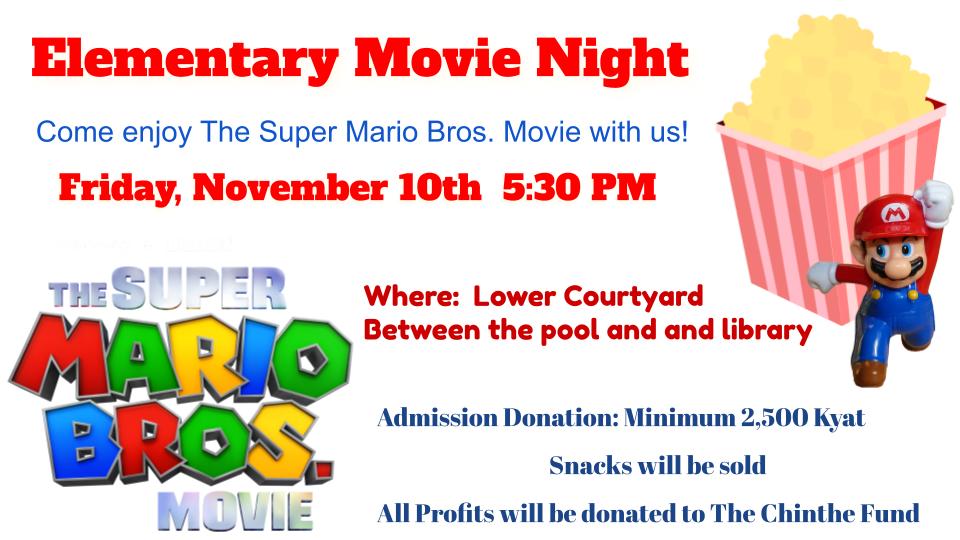 PARENT TEACHER CONFERENCES
Parent Teacher Conferences will be from 8:30 am to 5 pm on Wednesday, November 8th. These conferences will be an opportunity to discuss your child's Quarter 1 Progress Report and general progress with their teachers. The Progress Reports will be sent home on Friday at 2:30 PM.
See below for instructions on how to schedule a conference with your child's teachers. You can schedule a conference from 8:00 AM on November 2nd.
Instructions for scheduling a Parent Teacher Conference (PTC):
Please see these PTC Instructions for Parents. Conferences will be booked through PowerSchool.
All scheduled conferences are 15 minutes in length.
Conference booking will close at 3 p.m. on Monday, November 6. Your conference schedule will be emailed to you on Tuesday, November 7.
The following teachers (who teach in both the Elementary and Secondary Schools) will not have scheduled conferences through PowerSchool but will be available in the Gym for you to talk to them during the day on the 8th:
Ms. Samia Khattab (Art)
Ms. Bekka Jensen (Music)
Ms. Patty Amundson-Geisel (Counselor)
Ms. Sicard (World Language English)
Ms Wotton (Support Program)
Ms Thu Thu (Myanmar History, Language, Culture, and Geography)
Mr. Saw John will be in his music room A303, Ms Zarchi in the PE office, and Ms. Feller (Librarian) will be in the Library.
The following times have been blocked off for Elementary School drop-ins for language teachers (French/Mandarin). They will be in the Gym.
9:00 am – 9:28 am
11:00 am -11:28 am
4:00 pm – 4:28 pm
MEDICAL CLINIC MESSAGE
We would  like to shed some light on the many benefits of swimming for children including those with asthma.
Swimming can be a fun, enjoyable, and beneficial activity for children. It not only improves physical fitness but also contributes to their overall well-being. So, consider giving your child the opportunity to experience the many advantages that swimming can offer.
Swimming is often considered one of the best physical activities for children for several reasons:
Controlled Breathing:

Swimming encourages controlled, rhythmic breathing, which can help improve lung function. The moist, warm air in indoor pools can be less likely to trigger things like asthma symptoms compared to outdoor activities.

Improved Lung Capacity:

Regular swimming can strengthen the respiratory muscles and increase lung capacity. 

Cardiovascular Fitness:

Swimming is an excellent aerobic exercise that can improve cardiovascular health. It helps maintain a healthy weight, which can be especially important for children with conditions such as asthma as excess weight can worsen asthma symptoms.

Reduced Allergen Exposure:

Swimming in a well-maintained pool can minimize exposure to outdoor allergens like pollen and mold. This can make swimming a safer option for children with allergies.

Enhanced Relaxation:

Water has a calming effect on many people. The relaxation that comes from swimming can reduce stress.
If you have any questions or concerns regarding swimming, please don't hesitate to reach out to the clinic. We're here to support you and your child's health.
Dates to Remember
10th November – Special Diwali Celebration Assembly hosted by our Indian community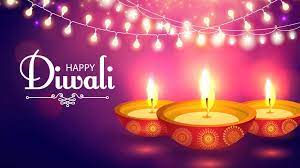 10th November – ES Movie Night (see information in this blog)
10th November – After School Activities Round 1 end
8th November – Parent/Teacher Conferences (no school for students) 8:30 – 5:00 p.m.
16th November – Grade 5 Parent Trip Meeting 5:30 – 6 PM
18th November – International Day 3:30 – 6:30
6th December – Holiday Bazaar (more information to come)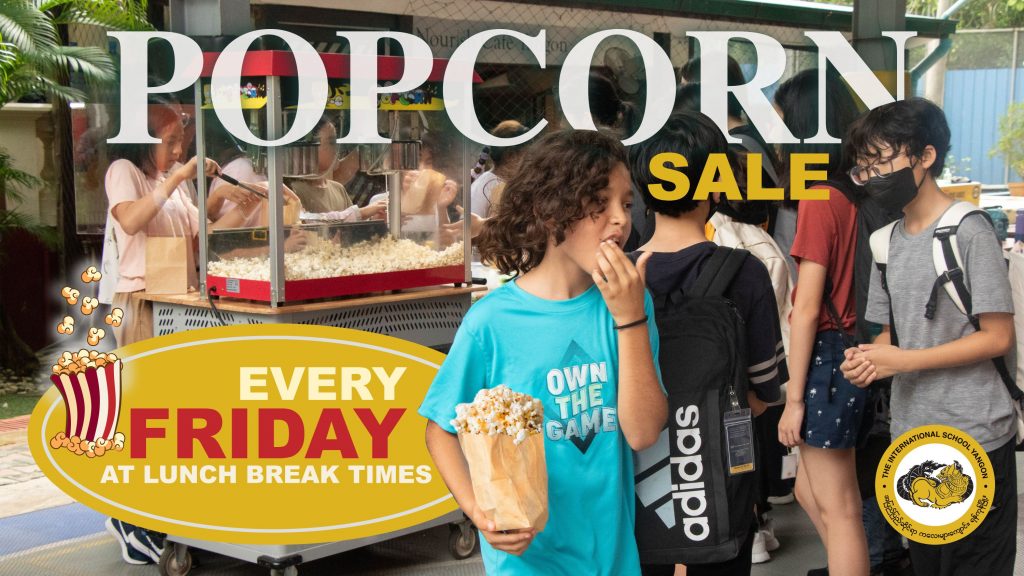 THIS SECTION
LEARNING AT ISY
Our passionate and experienced educators continuously seek out the latest research and practices to create dynamic and engaging classrooms where students thrive.
Whether it's integrating technology, fostering critical thinking, or promoting social and emotional development, our approach is always forward-thinking. Through learning opportunities, we encourage the development of our ISY learner attributes. Every week see the photos below highlighting learning at ISY. This week's photos are of our special Spirit Week events.

Executive Functioning Skill #1: Planning
Planning is a well-thought-out strategy before attempting to accomplish a task.  Planning is an important executive functioning skill because, when done well, it will allow your child to complete the task efficiently and without less frustration.  Planning involves thinking through the materials needed, the time it might take, and the supports required to be successful.  You can support your child in developing planning skills by:
Start the day with a review of the family's activities for that day.  Remind your child of their ASA or afternoon activities.  Review with them how they will get to these activities and where they need to be to participate.

Using and modeling a calendar.  A visual display of the upcoming events and family activities can help a child understand & prepare for the activities.

Have your child pack their own school bag.  As they pack, talk with them about their upcoming day.  What materials will they need?  What items are unnecessary?

Read and review your child's google classroom.  Together look over the assignments, help them create a plan to complete their work by the assigned dates.
If you notice your child is struggling to use the skill of planning and have tried the above strategies, feel free to reach out to Ms. Patty for support at escounselor@isyedu.org 
CHINTHE CUBS
Chinthe Cubs
Recently, our Chinthe Cubs team met with Ms. Bekka, our elementary music teacher, to learn more about her.  Check out this latest video produced by our ISY elementary students.
Chinthe Cub is a service learning program in the ISY elementary school that provides public service announcements for the community.  The programming is designed, produced, and created by elementary students. 
The International School Yangon
20 Shwe Taungyar Street
Bahan Township
Yangon, Myanmar
+95 (0) 9 880 441 040