Learning & Technology
ISY is committed to responsible online behavior to all of our students. As such, we have become a Common Sense Media Certified School.
Common Sense Media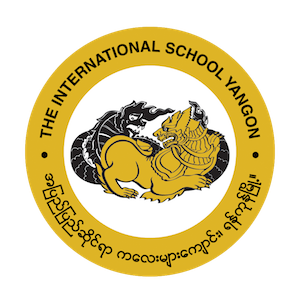 ISY Technology Vision and Aims
Technology at ISY is used to enhance student learning across the curriculum in purposeful and meaningful ways. It aims to support a culture of learning where teachers and students alike are adept users and implementers of digital technology where information and ideas are communicated, explored, evaluated, and created. Within this context, students engage in authentic learning experiences that facilitate local and global collaboration, creative problem solving, and the development of innovative products.
In an ever-changing digital environment, students learn fundamental tools, knowledge, and skills that are necessary for life and learning. Students build an ethical base to their use of technology through learning to advocate and practice safe, legal, and responsible use of information and technology. [1] Through this vision, ISY students are able to think flexibly and adapt their understandings to new situations and technologies.
[1] National Educational Technology Standards for Students. Washington, D.C.: International Society for Technology in Education, 2007. Print.
ISY Beliefs About Technology Use:
Technology is used to support quality teaching and student engagement that helps to connect learning with relevant tasks and challenges.
When there is a clear focus on learning, digital tools can have a positive effect and impact on learning and teaching.
A critical component of a strong technology program is effective and ongoing professional teacher development.
Through keeping current on research in educational technology and emerging technologies, ISY is poised to have a relevant, dynamic, and adaptive technology program.
Students acquire computer and digital technology skills at developmentally appropriate intervals.
It is the responsibility of ISY to educate its community to be critical consumers of the Internet and electronic media to make informed choices.
It takes a community to promote a balance of screen-based media activity to ensure the healthy and social-emotional well being of students.
ISY should equip students with the critical thinking skills necessary to determine when and how best to use technology for communication and educational purposes.
The International Society for Technology Education (ISTE), through its learning outcomes, provides a foundation to guide technology learning.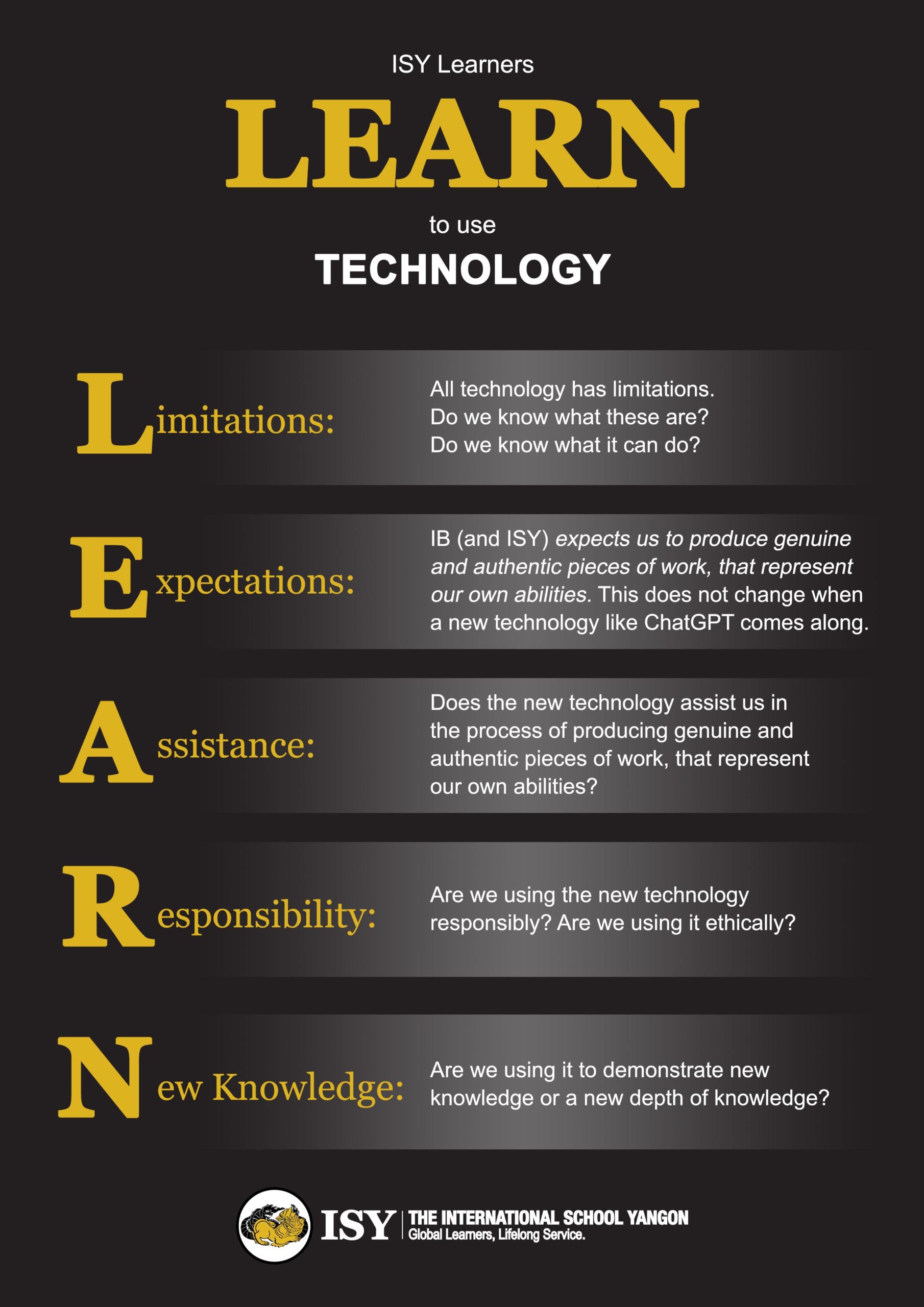 Technology Integration at ISY
At ISY, we aim to develop lifelong learners who will be a force for positive change in the world. This is our school's Vision statement.
To be lifelong learners, our students will need to learn to apply the knowledge and skills that they are learning now to an unknown future. As teachers, it is our responsibility to help them learn how to do that.
Recently, we have revised our school's strategic themes. These themes will guide us in our commitment to fulfilling our Vision for our students. One of these themes is Learning as summarized by this very future focused strategic theme statement:
ISY embodies a student centered learning program that encourages adaptation and innovation to meet the challenges of the future.
It is through the lens of our future focused vision statement and Learning strategic theme, that we view technology and the role it plays in the learning process at ISY.
ChatGPT is an artificial intelligence language model that is designed to respond to users prompts and questions in a human-like conversational manner. This means that instead of just providing links to where you might be able to find information to answer a question as a search engine like Google does, ChatGPT can answer a question in human-like language in a variety of ways as requested by the user.
ChatGPT is a very powerful tool and, as with any powerful tool, students and teachers must use it with care and for the right purpose. How and why ChatGPT might be used in the classroom is something schools around the world have been thinking about a lot lately. At ISY we have been thinking about this in terms of our future focused Vision for our students.
You can explore the summary of ISY's approach to the integration of new technology into the learning process by clicking here.
The International School Yangon
20 Shwe Taungyar Street
Bahan Township
Yangon, Myanmar
+95 (0) 9 880 441 040