Coming to the end of 2022
Mike Simpson
Secondary School Principal
December 9, 2022
There is a lot going on next week as we come to the end of 2022 and Winter Break. Our choirs are entertaining us tonight and a holiday bazaar will be held on Wednesday. Details of these events and how we can show our appreciation to our wonderful staff can be found below.
School will break at 2:30pm on Friday, December 16 and will start again on Monday, January 9.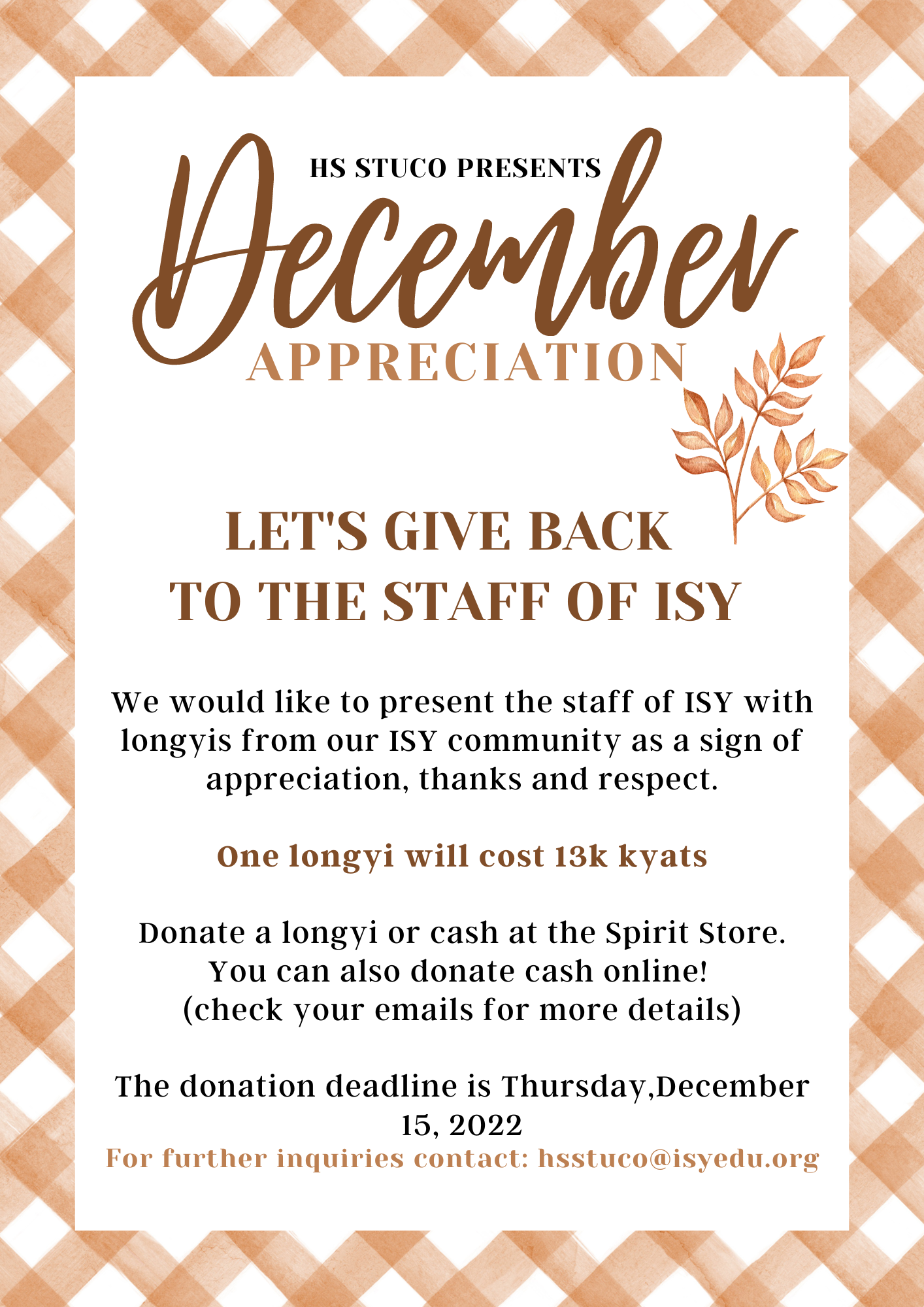 DECEMBER STAFF APPRECIATION
Every December at ISY, we come together as a community to show our gratitude towards our custodians, maintenance staff, security team, assistants and other staff members that help make our school special. This year, we would like to present our staff with longyis from our ISY community as a sign of appreciation, thanks and respect.
One longyi will cost 13000 kyats and donations can be made in 3 ways:
Online Cashless Donation using these instructions.

In person at the Spirit Store at the front steps in the morning before school or at the Business Office.

Instead of cash, new longyis can also be donated at the Spirit Store at the front steps before school.
The donation deadline is Thursday, December 15, 2022.
CODING AT ISY
At ISY, technology integration is an important strategic theme to support the development of lifelong learners. Technology is integrated into every subject at every grade level and specialized Computer Science courses are offered to our High School students. Our After School Activities (ASA) program also provides opportunities for students to pursue their interests in computer science. This week was Computer Science Education Week. This week and next, Middle School enrichment classes, are focused on coding through code.org's Hour of Code. The Hour of Code is a worldwide event that celebrates and raises awareness of coding, a beneficial skill for our ISY lifelong learners.
WORLD LANGUAGES UPDATE
Beginning in Grade 2, ISY offers instruction in French or Mandarin.
These courses are designed for students learning an additional language who do not have native fluency in that language. Instructional emphasis is on speaking, listening, reading, and writing and learning about the culture of the target language via these skills.
ISY believes that learning an additional language is integral to the development of internationally-minded students who are confident, reflective, and multi-lingual communicators. Language development in more than one language advances cognitive growth, cultivates lifelong learning, and promotes cross-cultural communication.
We have students at all levels of language proficiency. Beginning in Quarter Three, the schedule will change to allow for students in different grade levels to learn together based on their language proficiency levels and language learning needs. This will allow for students to receive more targeted language instruction at their proficiency level.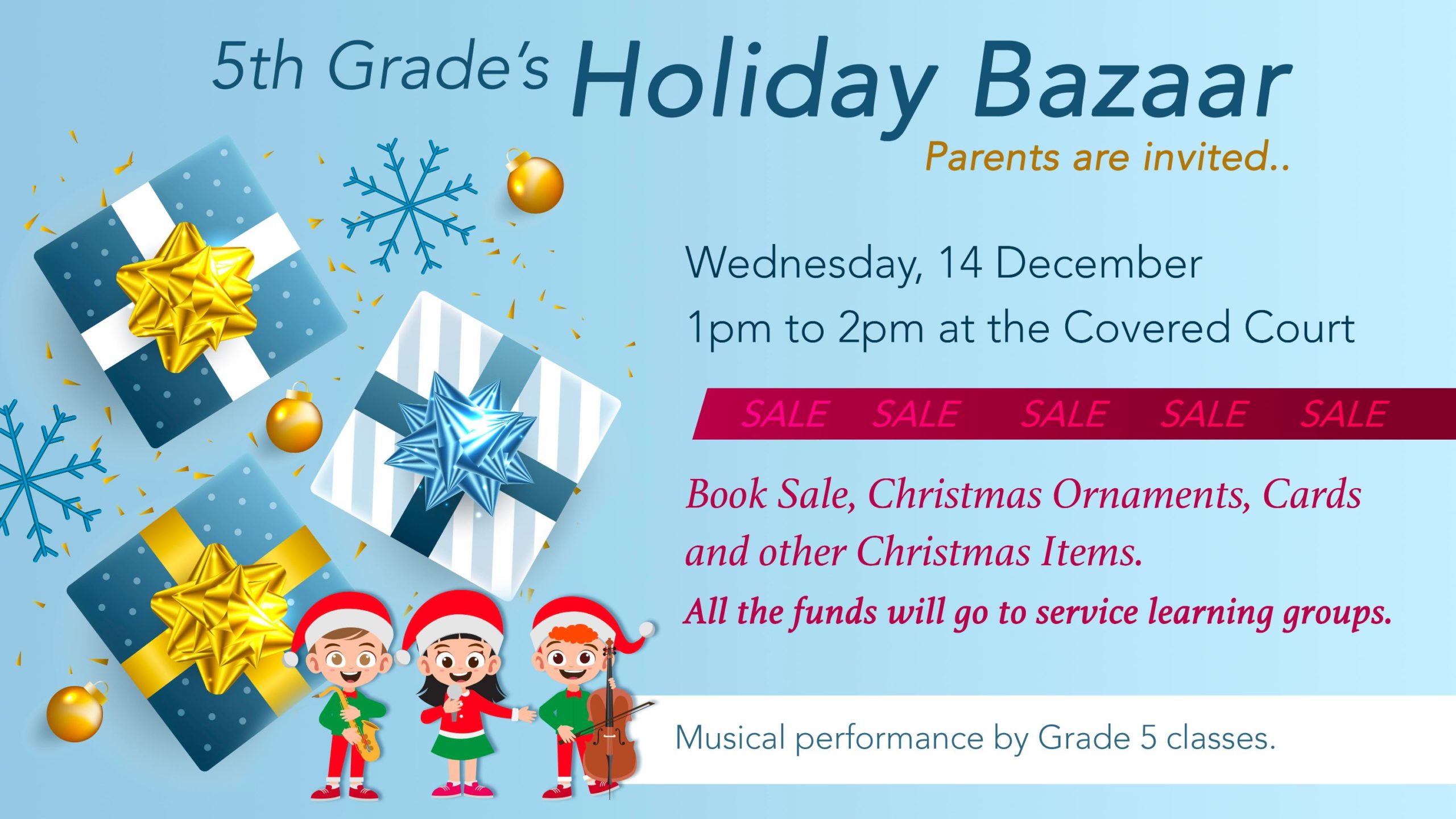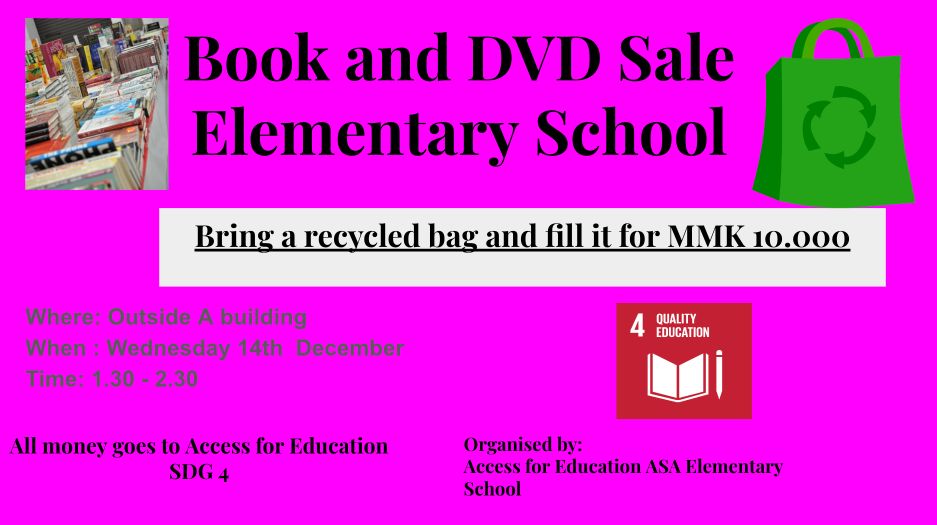 HOLIDAY BAZAAR
The Holiday Bazaar will be on the 14th of December from 1:00 – 2:00 PM in the covered court area. This event is organized by Grade 5 students to raise money for service learning groups. The event includes:
A Grade 5 music performance
Selling of holiday-related objects, e.g., Christmas cards and ornaments made by PreK, Kindergarten, Grade 5, and Grade 7 students, to raise money for the Qatar Animal Shelter.
A used book sale to raise money for Access to Education
The Parent Association branch of Connecting Parents will be serving tea, coffee, and cookies for parents. All are welcome.
Grade 4 will be accepting donations for Care for the Least orphanage of flip-flops, used children's clothing, and bedding. They encourage you to bring your donations along.
Care to the Least Centre – Flip Flop Drive
The Care to the Least Center (CLC) Service Learning group are having a flip flop drive. Between now and the start of the December break there will be a basket on the front steps where you can donate flip flops. Ideally they would like children's sizes for 3 year olds to 16 year olds. Alternatively, you can donate 10,000 ks. for this campaign at the ISY business office. Thanks in advance for your donations.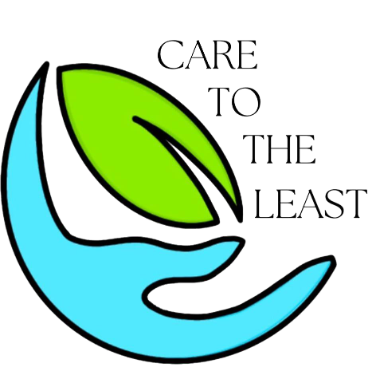 LOST PROPERTY
Lost property (clothing, drink bottles, etc) found during the year is kept in Room A105.
Please note the end of next week, any lost property that is not collected will be donated to charity. Our Secondary School Office can help you with any questions about lost property.
Student Dress Code
In the absence of a school uniform, ISY students are expected to demonstrate pride in themselves and in their school by their manner of dress and appearance.
Clothes, make-up, and hairstyles shall be neat and clean. While we want students to be able to express themselves, students need to dress practically for all learning activities and with respect to the diverse cultural norms of an international learning community. Clothing and jewelry with drug, tobacco, alcohol, or other questionable, inflammatory or inappropriate slogans or pictures are unacceptable.
Healthy Eating
A healthy diet helps a child learn, so we encourage and support parents to provide healthy food options for their children.
Also, we have two vendors on campus who are offering healthy meat-free food choices. If you would like to send food from home, we encourage these to be healthy food choices; fast food is not encouraged. Food sent should be for your child only.
As a reminder, food deliveries from outside food vendors or delivery services are not permitted.
The International School Yangon
20 Shwe Taungyar Street
Bahan Township
Yangon, Myanmar
+95 (0) 9 880 441 040