Secondary Principal's Blog

Christina Powers, Secondary School Principal
Happy New Year and welcome back from the holiday. It has been wonderful hearing about all the family adventures that took place over the break. I would like to extend a special welcome to all our new families.  It has not taken long for things to get right back to where we left off, please read the important information listed below in order to be aware of the events that will be taking place this upcoming week. 
Grade 11 exams start on Thursday, January 16, 2020 
Grade 11 students will only need to attend school when they have an exam. Please see the exam schedule for more information. All other grade levels will have classes as normal. 
Course selection for 2020-2021 School Year
Grade 9 Students: On Thursday, Mr. A-G met with students in Grade 9 to discuss their course options for the 2020-2021 school year. Course registration is done online through Power School. Students logged into their Power School account to choose their class options.  Students are to rank-order their preferred elective classes that he/she would like to take the next school year.  This information will be used to accommodate student requests. At the end of the school year, the courses students are registered to take will be shared. 
Grade 8 Students: On Tuesday, January 14, 2020, Mr. AG will meet with grade 8 students to discuss the difference between middle school and high school and will share with them the course options available to them for the 2020-21 school year.  Students will be selecting their preferences through Power school this year. 
Parent Meeting for grade 8 Parents:  To ensure that parents are well informed so that you can support your child through the transition from middle school to high school, we would like to invite you to a parent evening on Tuesday, January 14, 2020, at 5:00 pm in the cafeteria.  At this session, we will discuss topics related to High School and the different course options available to your child. This will be a great opportunity to ask questions and voice any concerns you may have.  
Color Run 2020 
The Color Run 2020 that is being organized by our very own Girl Up Secondary School group will take place Jan 25th at 8:00AM at YIS. More information can be obtained from the posters display around the school and on our TV screens.
This Week In Secondary School
Tuesday 
Grade 8 Parent Meeting at 5:00 PM in the cafeteria
Thursday 
Friday 
Grade 11 exams continue 

MS Soccer vs YIS at ISY 

YAC HS Basketball Invitational at ISY (boys) & ISM (girls)
Saturday
PA Pool Party and Community BBQ at the American Club 4:00-7:00 PM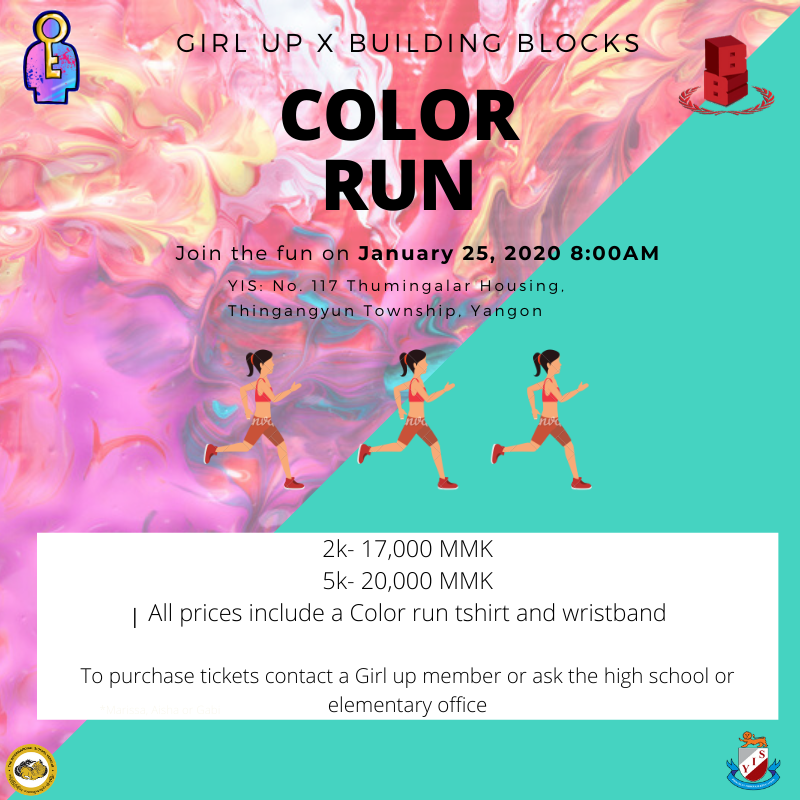 The International School Yangon
20 Shwe Taungyar Street
Bahan Township
Yangon, Myanmar
+95 1 512 793 /94 /95