Mike Simpson
Secondary School Principal
November 17, 2023
It is here! The much anticipated annual ISY International Day. We look forward to welcoming you all tomorrow. This is such a wonderful ISY event that celebrates our school community, and the many nations represented at ISY. We know the students are looking forward to it, and we hope you are as well.
See you there!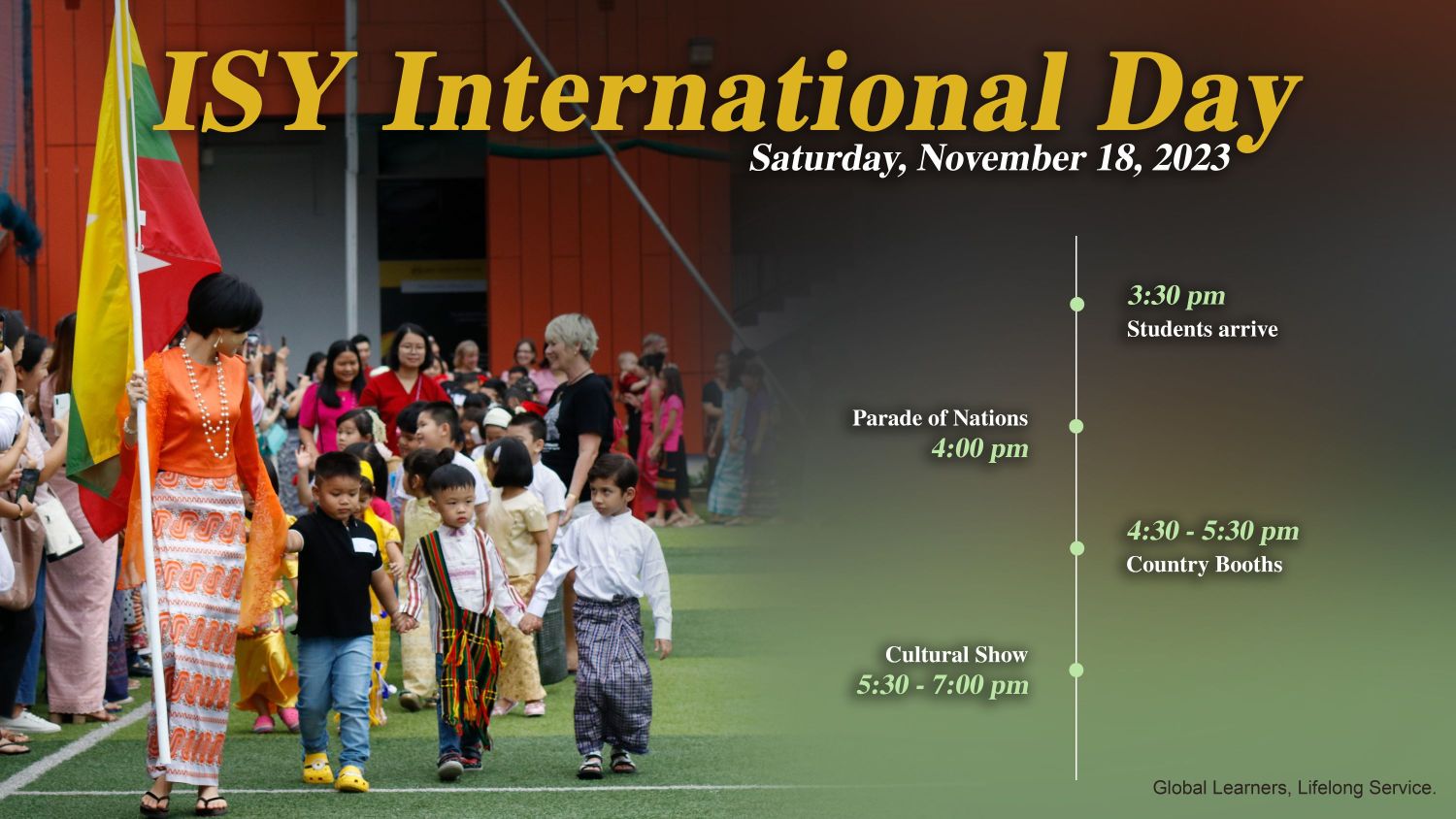 International Day
The International School Yangon has its traditional International Day this coming Saturday, 18th November, 2023. This important community event celebrates the many countries we have represented here at ISY. 
The schedule of the day is as follows:
3:15pm – Arrival of parents and students. Students are to gather in the Gym for the Parade of Nations. Please ensure your child/ren are on time. 
4:00pm – Parade of Nations – The students will parade behind their flags. The oldest student of each nation will carry the flag. Parents can wait to view the parade along the perimeter of the field, teachers will supervise the students in the Gym.
4:30pm – Country Booths – After the parade, families can freely enjoy the booths, which offer a taste of the cultures represented through food, games, and displays. The booths are hosted by the ISY community. Additionally, the Parent Association will sell raffle tickets to raise money to support student activities. Refreshments and ISY Gala tickets will be available to purchase. 
5:45pm – Cultural Show – Music performances from various countries will take place on the stage. We encourage everyone to come and enjoy the show. Raffle draws will take place during the show.
Please note that Parking will be limited due to an event at the Italian Embassy, so we encourage you to arrive early.
Non-ISY guests are welcome to attend the International Day as long as they are accompanied by a member of our community. We look forward to seeing you all there for this fabulous annual celebration.
Chinthe Expedition Update
We are aware of the current situation in Myanmar and its continually changing landscape. Due to these circumstances, we are concerned about the potential risks to our students if the Chinthe Expeditions proceed as scheduled. Our goal is to recognize the substantial role these expeditions play in cultivating a sense of belonging within our student community and facilitating exposure to the local Myanmar culture. These expeditions offer numerous highlights and advantages, encouraging students to collaborate, communicate, think critically, and reflect on their experiences. However, we recognise that occasionally we must adapt our goals for the safety of our students.
Considering the aforementioned circumstances we have made a well-considered decision regarding the status of the scheduled Chinthe Expeditions.  We have made arrangements for all the Grade 6 to Grade 12 expedition trips to go to Chiang Mai, Thailand instead of Myanmar for this school year only. The trips will not take place in December as originally planned as work needs to be done on the curricular aspects of the program. Instead, different grades will take their trips at staggered intervals in January and February 2024. The Secondary school will send an update to each grade level next week indicating the exact date and location of each grade level trip. 
Grade level parent meetings will follow to run through the goals and organization of the different expeditions.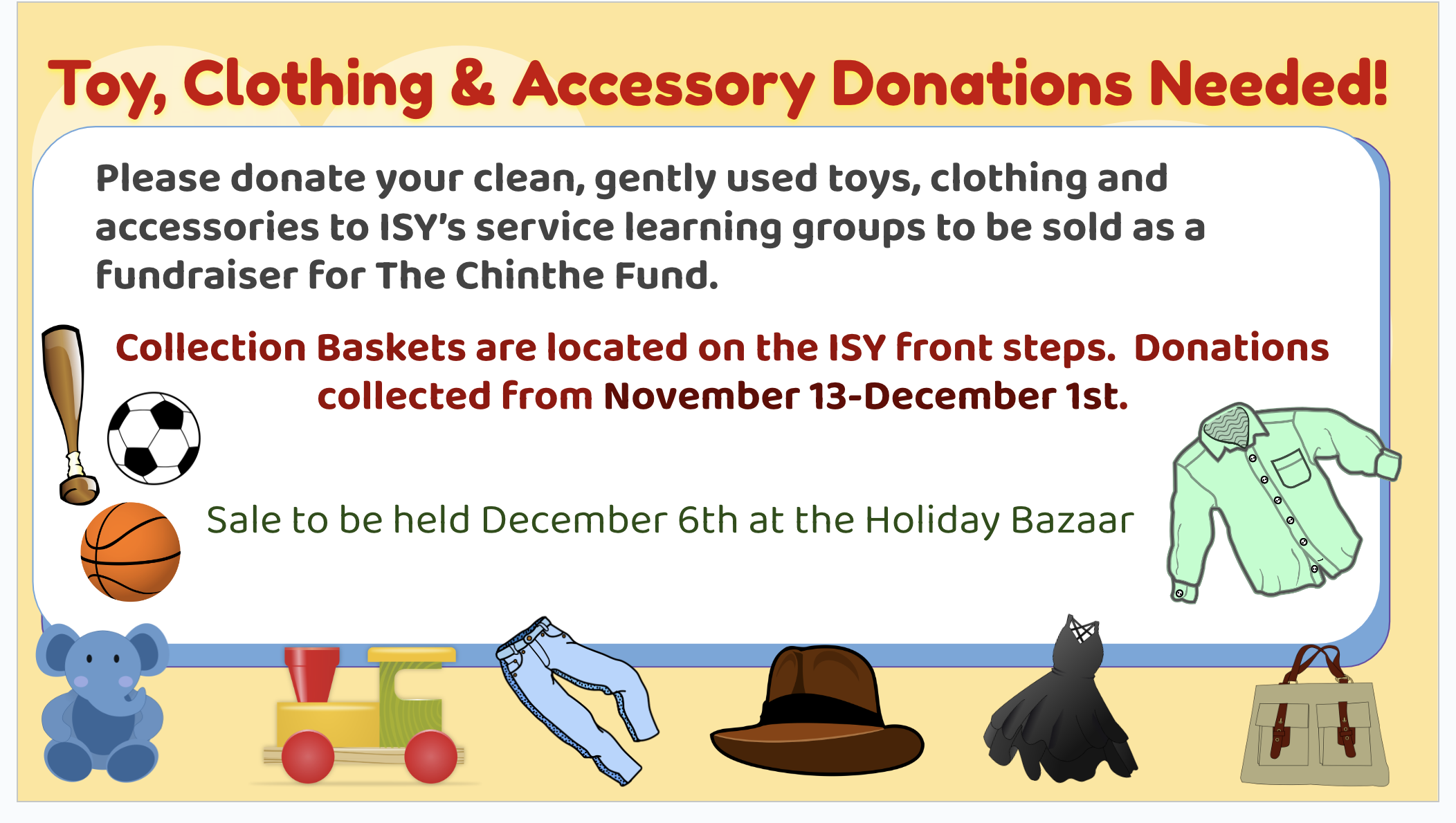 Secondary School Events
This week:
TOMORROW: International Day! See below for details.
Tuesday:
HS Football vs ISM @ ISM: 3:30pm
Wednesday:
MS Volleyball vs ILBC @ ILBC: 3:30pm

SEASAC Golf (Bangkok)
Thursday:
HS Football vs ISM @ ISY: 3:45pm

SEASAC Golf (Bangkok)
Friday:
HS Football vs ILBC @ ISY: 3:45pm

MS Volleyball vs ISM @ ISY: 3:45pm

SEASAC Golf (Bangkok)
Upcoming Events:
November 27: Tazaungtaing Holiday (No School)
November 30: Family Poetry Afternoon (see below for details)
December 7: National Day (No School)
December 16-January 7: December Break (No School)
Counselor Weekly Newsletter
Every week, Mr. A-G, our High School Conselor, provides our High School students with a weekly newsletter. This newsletter provides students with information about a variety of topics including college and university application processes.
Click here for this week's newsletter.
On Wednesday, we had the following UK universities visit our campus:
University of Essex
University of Exeter (tbc)
University of Leeds
University of Leicester
Middlesex University London
University of Portsmouth
Queen's University Belfast
University of Sheffield
University of Sussex
Teesside University
Being Sun Smart
It is very hot and sunny at the moment. We are strongly encouraging our Secondary School students to bring a hat to wear when they are outside – especially when they are doing PE. Many of our students report that they use sunscreen which is great and we strongly encourage all students to use it and bring it to school so they can apply it before they go outside.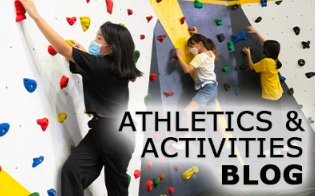 Yangon City Invitational Football Tournament: Undefeated Chinthes!
Parent Teacher Conferences
The International School Yangon
20 Shwe Taungyar Street
Bahan Township
Yangon, Myanmar
+95 (0) 9 880 441 040