Celebrating our Strategic Themes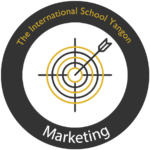 Theme Statement:
We will promote the brand, reputation, and strategic objectives of ISY by developing Marketing strategies that include an inviting approach to admissions, community engagement, and an overall marketing plan.
Setting the Foundations
The start of this theme saw a complete change in the structure of the communications team with a new communications coordinator who subsequently became the Communications and Marketing Director, and the creation of a new role increasing this team to three people. In addition, the Board established a Marketing task force to assist the communications team where necessary. Taking into account the school's mission of compassion and vision of positive change these groups worked together to lay out a detailed long term marketing plan with three main objectives.
Maintain full capacity of admissions.
Recruit high quality staff.
Establish the reputation of ISY as one that aligns with the mission, vision and strategic themes.
Admissions Procedures

Hand in hand with the theme of Inclusivity, admissions marketing materials were changed to reflect the new guiding statements and strategic themes. Prospective new parents were quickly made familiar with our revised positioning whether by reviewing marketing material, browsing our website, walking around campus or reading our annual reports. Posters in every room at ISY reinforce our themes, mission and vision alongside the ISY Learner Outcomes.
Digital Marketing


Social Media – Facebook
ISY's social media was overhauled at the beginning of this period. Our Facebook channel was reinvigorated with a constant stream of posts highlighting activities reflecting our themes and guiding statements. Engagement with the ISY page took off with the number of people following the page rising from around 1,700 at the beginning of the period to over 8,000 today. Facebook remains our most important social media platform with posts often getting in excess of 100 likes each.
YouTube
Our YouTube channel was restarted and has gained a steady following throughout the period. Graduation in 2020 and 2021 was live streamed to YouTube and received over 1,000 views with over 250 people logged in at once during the ceremonies. It has also been an important channel for the Director to give 'fireside chats' and explain Covid regulations during our time as a virtual school.
Website
The ISY website was completely rebuilt onto the WordPress platform not only providing significant cost savings for the school but also allowing for a larger number of people to edit and maintain the site. A plethora of other platforms used for blogs were then consolidated into WordPress allowing for consistency of brand message and improvements in usability.
Yearbook
Started as an initiative in line with our Environmental Consciousness theme, a project was begun to move the Yearbook online. The move to virtual school accelerated this process and the project expanded to archiving the entire Yearbook collection. Every page was individually scanned and uploaded to a bespoke website protected behind a password. This is now a major resource for photos and students interested in the history of ISY.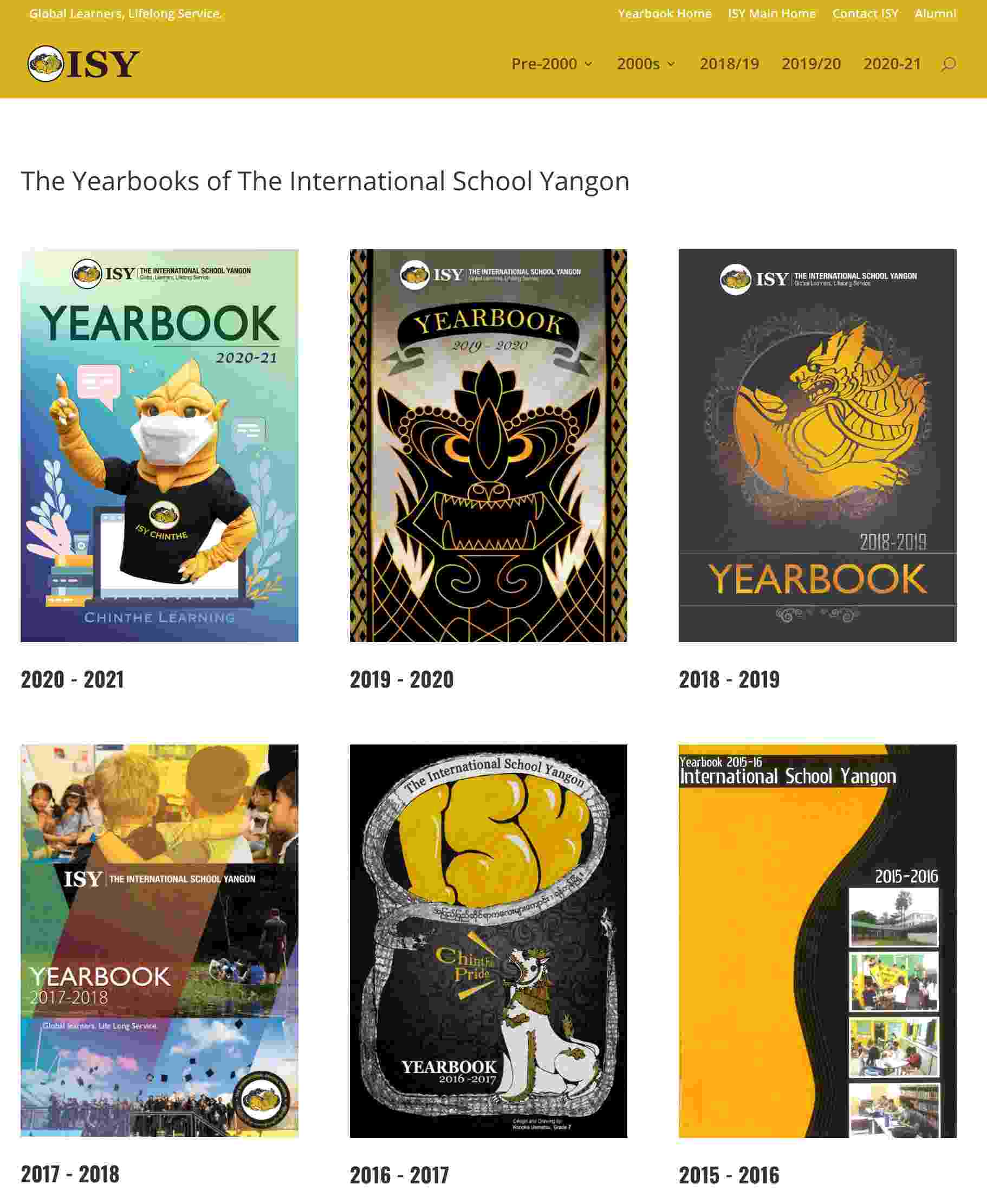 Marketing Campaigns
The marketing department works hand in hand with staff and students alike to promote various activities and events going on at school at any one time. Working with the technology team, large monitors have been placed around the school to take the place of notice boards and wasteful paper posters. As a result the use of student created media, both as imagery and videos, has flourished. As well as day to day activities a number of major annual initiatives have been marketed carefully by the communications team.
United World Schools (UWS)
The communications department was part of the UWS committee tasked with fundraising for the UWS project. The first year task was to raise $30,000 which involved the creation of two new annual events, the ISY Sports-a-thon and the ISY Family Fun Night, as well as a myriad of other one off events.
The ISY Annual Gala
This event became both a community building event as well as a fundraising event and has been extremely successful in both regards. Attendance has grown from a largely external audience to a mix of people connected with the ISY community alongside parents, faculty and staff. The events have been augmented by student performances and have become a highlight of the school year.
International Day
Working alongside the ISY parent association, the communications team worked to bring this event more closely in line with our theme of Culture and Diversity. The growth in community spirit displayed in this event has been reflected in the increased participation by parents, generous gifts donated for the raffle and wonderful cultural displays during the evening performance.
Business Networking Breakfast
ISY held business networking breakfast events where local vendors and the press were invited to a morning where they could hear about everything going on at ISY including upcoming tenders for services ISY required. The press could then ask questions about our plans like the Nay Pyi Taw campus project for instance.
Nay Pyi Taw Campus
Following the decision to pursue a campus in Nay Pyi Taw as part of our Facilities Strategic Theme and the establishment of a site, the communications team worked to promote that campus. This was partly done through the development of a relationship with the PR company – RICE. Advertising billboards were used to promote the campus both at the site and at the airport as well as a number of open days. Press events were also held to explain the vision and mission of the campus as well as visits by embassies and NGOs. Several open days were held at the start of each year to encourage the local community to visit the school. The school also opened up its library to non-student families and also invited them to events like Halloween to further market the school to local families. The campus attracted a number of students and much interest from both the local and international communities.
Both faculty and staff recruitment benefitted from the new website where a new careers page was created and linked from the homepage.
The main promotional video all about ISY and living in Myanmar, was redone including drone footage of the school.
A new page was added, 'Teachers Talking', with videos of teachers talking about what life is like in Yangon and at school.
New staff members had a bespoke website created for them with all the information needed to prepare them for life in Myanmar and at ISY with blog posts written by staff members.
Publications and Recognition
The communications team worked with staff to encourage the submission of articles to various publications. ISY's international reputation has been buoyed as a result by the number of articles written by ISY faculty and published by educational journals and magazines. ISY staff have attended many conferences, leading workshops and giving presentations to further establish our credentials within our themes.
More locally and also on the wider stage, ISY has also been recognized as a thought leader in managing a virtual school, operating in-person school during the time of Covid and maintaining normality during a time of political upheaval. ISY was also the runners up for the International School Award 2020 for 'Strategic Leadership', the ceremony for which was held in London and Dr. Hedger was elected to the position of President Elect of AAIE – April 16, 2021. Dr. Hedger aas also awarded a fully-funded fellowship to the Klingenstein Center for Independent School Leadership's 2019 Heads of Schools program.
Articles, interviews published about ISY or from ISY faculty and accolades include the below but a fuller list can be viewed at this link.
Alumni
Alumni relations developed through a number of initiatives and events throughout the period. A survey collected information about alumni willing to be mentors to current students and or those willing to come in and speak to students. This generated a useful database of alumni with a wide range of skills and interests as well as events where alumni presented to students.
A database of alumni email addresses was created and a newsletter regularly sent out so that alumni can keep up with the latest news from ISY. One highlight was finding an alumni from ISY's very first year who sent in a thought provoking memoir of his time here.
Measurement
To supplement information gathered from the annual climate survey ISY began a new survey focusing just on branding. The results showed that we have strongly established the main external strategic themes with the parent community. When asked whether they would recommend ISY, with a score of 1 being 'definitely would not' and a score of 10 being 'definitely would', 49.6% answered 10 while 86.3% in total gave a score of 7 or higher.
This was followed up the following year by a series of focus groups conducted by an external provider and included parents, faculty and students. The results showed a strong recall of our core messages with many being able to repeat our guiding statements accurately and confirmation of our strategic themes being well received.
The International School Yangon
20 Shwe Taungyar Street
Bahan Township
Yangon, Myanmar
+95 (0) 9 880 441 040