Elementary Principal's Blog

Sandy Sheppard, Elementary School Principal
Dear all,
We are thrilled to share with you the exciting event that took place during today's assembly. The Student Council organized a special assembly to honor our exceptional teachers with the Pride of the Student Awards. While we typically reserve the Pride of the Principal awards for our students, this time, the students themselves wanted to express their gratitude towards our dedicated educators. It was truly heartwarming to witness their appreciation!
The decision made by the Student Council to recognize our teachers demonstrates the strong bond and respect that exists between our students and faculty. It is a testament to the positive impact our teachers have on the lives of our children.
We believe it is essential to foster an environment where gratitude and appreciation are celebrated. The Student Council's initiative not only uplifted our teachers but also instilled a sense of pride in our entire community.
We are immensely proud of our students for their thoughtful gesture and their desire to express gratitude.
Please read the blog for some important upcoming events. 
Thank you, and have a wonderful weekend.
Ms. Sheppard
PRIDE OF THE STUDENTS – POS
PARENT TEACHER ASSOCIATION ANNUAL GENERAL MEETING
Will be held on the 2nd of June at 9 AM in the Cafeteria, after the Parent Appreciation event. 
The Parent Association will be sharing a traditional Mohingar breakfast.
Come and join them to find out more about the work the Parent Association has done this year. 
Fun was had by all that joined the football tournament organized by Secondary School students, after school on Wednesday.
GRADE 5 ANNOUNCEMENT
Two Grade 5 students are working on taking action for their 5th Grade ComPassion Project. They are aiming to raise awareness about SDG #14 and would love your help! Here is their message:
We are planning to host a competition between grades. In order to participate in the competition, we are asking that students take action by cleaning up their street/neighborhood. As evidence, your child should submit a photograph of themselves doing their clean-up. This can be sent directly to their teacher with their name, class, and a small description of what they did. The competition will run from May 23 to May 29th. The class with the most photographs will earn special time for some fun games.
SUPPORT GRADE 5 STUDENT'S COMPASSION PROJECTS
Oscar, in Grade 5, is collecting old electronic devices for recycling, e.g., mobile phones and computers. This is part of his ComPassion project. He is doing SDG#7, 'Affordable and Clean Energy'.
The items donated will be taken apart by Oscar in the Maker Space at ISY and then donated locally for reuse. The donation box will be on the wooden front steps all of next week.
You can find out more about his journey and his passion when the Grade 5 students present their projects on Thursday, June 1st.
CHINTHE FUND, FUNDRAISER
Some Elementary students have organized a fundraiser on Wednesday at lunchtime. The fund will go to the Chinthe Fund.
Each year ISY raises money for the Chinthe Fund, which is then equally distributed to our three partners: Yangon Animal Shelter, Care to the Least Center, and Kalihtaw School.
There will be a large book sale with books suitable from Kindergarten to Grade 12.
PARENT APPRECIATION EVENT
All parents are invited to a parent appreciation event hosted by ISY students. See the flyer for more information. There will be light refreshments and a short choir presentation.
We hope to see you there.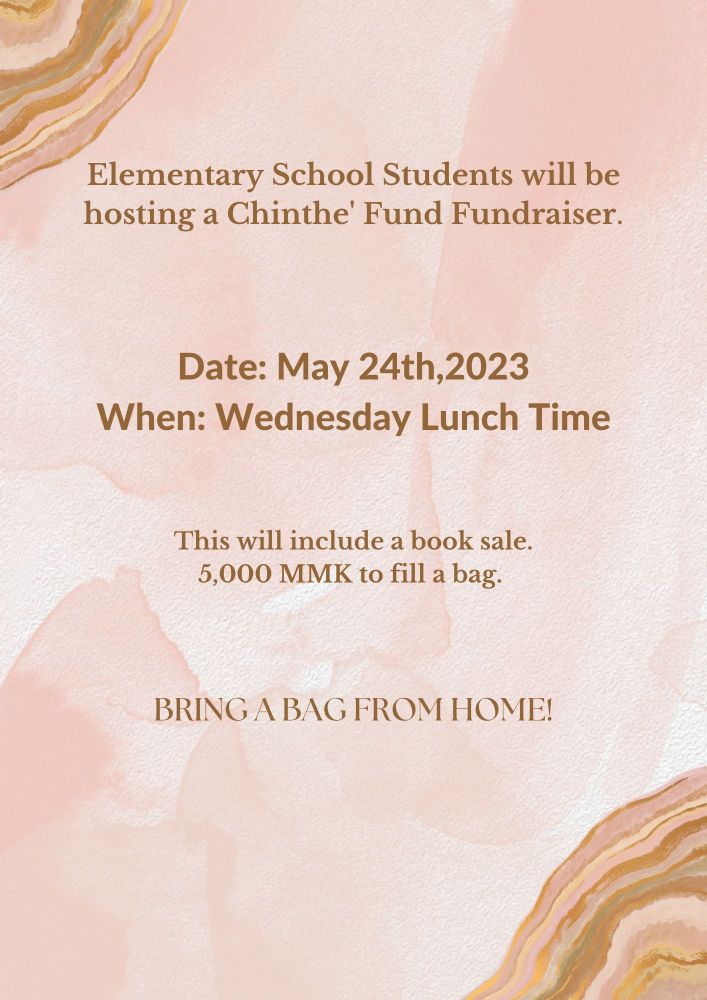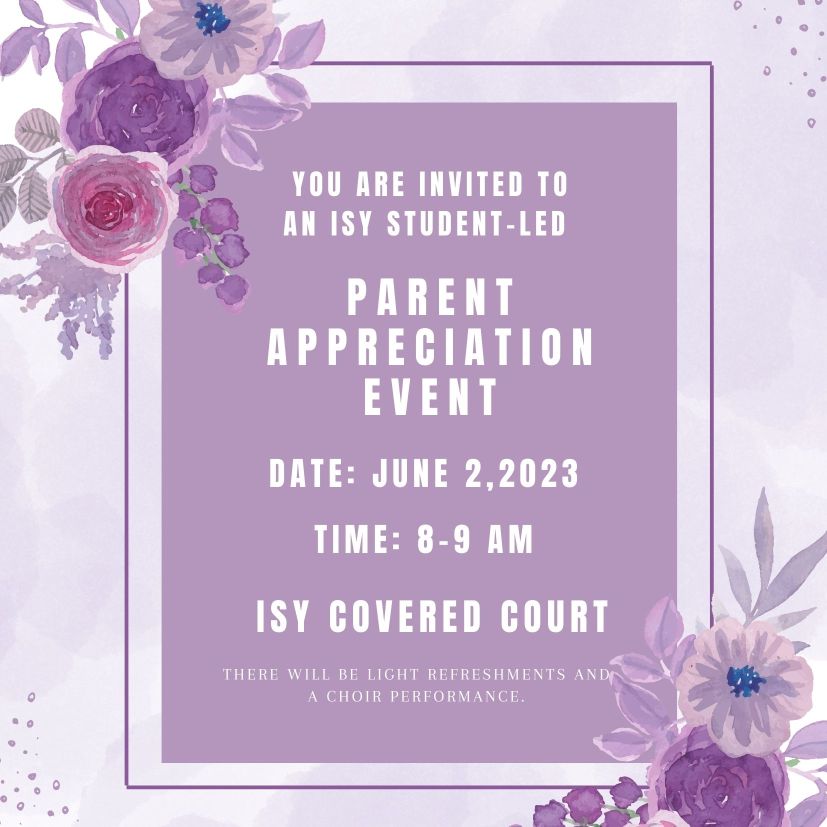 Dates to Remember
2nd June – Parent Appreciation event 8-9 AM
2nd June – Parent Association Annual General Meeting 9 AM in the Cafeteria
9th June – Last day of school (11:30 finish for students)
REMINDER
The campus is not supervised until 8:00 AM each morning when we have one teacher on duty.
TRANSITIONS AT ISY
While we still have a lot to do in the last three weeks to finish this year strongly, we are very much focused on smooth and successful student transitions into next year.
We place a lot of importance on transitioning students into their next grade level and are also very careful to emphasize that all students are part of the same compassionate community – regardless of their grade level or whether they are in Elementary, Middle or High School.
This year, we have been very deliberate in strengthening the connections between the Elementary, Middle and High Schools. We have combined the Elementary and Secondary School Offices, many of our teachers teach in Elementary and Secondary School, Middle and High School students now attend the same assemblies and celebrations together, and there have been some wonderful collaborations between grade levels across the school.
The connections between students from different parts of the school are also clear to see on the playground and the way that they interact with each other. This is very pleasing to us as it shows that our students feel that they belong to the same community and this is a feeling that we will keep nurturing at ISY.
As our students change grade levels or change from Elementary to Middle to High Schools, it is very helpful for them to feel that they are moving through the same community instead of moving on to a different one. The confidence that comes from belonging to a strong community is what makes for smooth and successful transitions throughout each student's time at ISY.

Transition and Goodbyes
Once again we are nearing the end of another school year. There is much to be proud and excited for as we look toward our summer holidays and imagine what lies ahead for next year. Unfortunately, not everyone will be returning to ISY in August. Each year about this time, I am reminded of David C Pollock, Ruth Van Reken and Michael Pollack's Third Culture Kids: Growingup among Worlds work regarding the importance of saying good-bye. Using the acronym RAFT to help us remember the important areas that need to be addressed when saying farewell.
Reconciliation: This difficult but important step focuses on mending or forgiving relationships. Resolving issues with those you are leaving behind enables you to move on without regret.
Affirmation: Expressing appreciation for relationships. Validating your friendships and connections to others through words, gifts or personal time together highlights your time together and the value it has had on your life.
Farewell: Many people try to avoid the act of saying goodbye but this is an important step. Be mindful of saying goodbye to not only people but also places, animals and experiences.
Think Destination: Preparing for and building excitement for the new experiences and places you are heading toward is the last step in your goodbye journey.
https://www.seebeyond.cc/blog/2021/1/19/how-to-build-a-raft-and-leave-well
If you have concerns about your child's development, please feel free to reach out to me, Ms. Patty, at escounselor@isyedu.org.
See photos of Kindergarten students enjoying their Life Skills class and photos from student presentations from assembly today.
The International School Yangon
20 Shwe Taungyar Street
Bahan Township
Yangon, Myanmar
+95 (0) 9 880 441 040