Elementary Principal's Blog

Sandy Sheppard, Elementary School Principal
Dear all,
We have some important events happening this week. Firstly we have the Grade 5 ComPassion Project Showcase on Thursday; the students are very excited to present their work.
On Friday, we have two events that we would love parents to attend. The first is at 8:00 AM and is a parent appreciation breakfast event; there will be some food, a choir presentation, a student thank you, and wonderful table decorations made by our PreK and Kindergarten students. See the invite below.
Following this, the Parent Association will have its Annual General Meeting in the Cafeteria, starting at 9 AM. They will be serving a Mohingha breakfast for all attendees. Come and find out more about the work the Parent Association has been involved in. We hope you can make it.
Today our wonderful staff were celebrated and thanked by a Teacher Appreciation event organized by our Parent Association. Lunch was served and enjoyed by all. Thank you to our wonderful Parents who supplied the food for the event. Thank you to our Parent Association for all that you do to support us.
We had our final Pride of the Principal today in assembly; see the picture below. Our final assembly will be on the last day of school
Thank you, and have a wonderful weekend.
Ms. Sheppard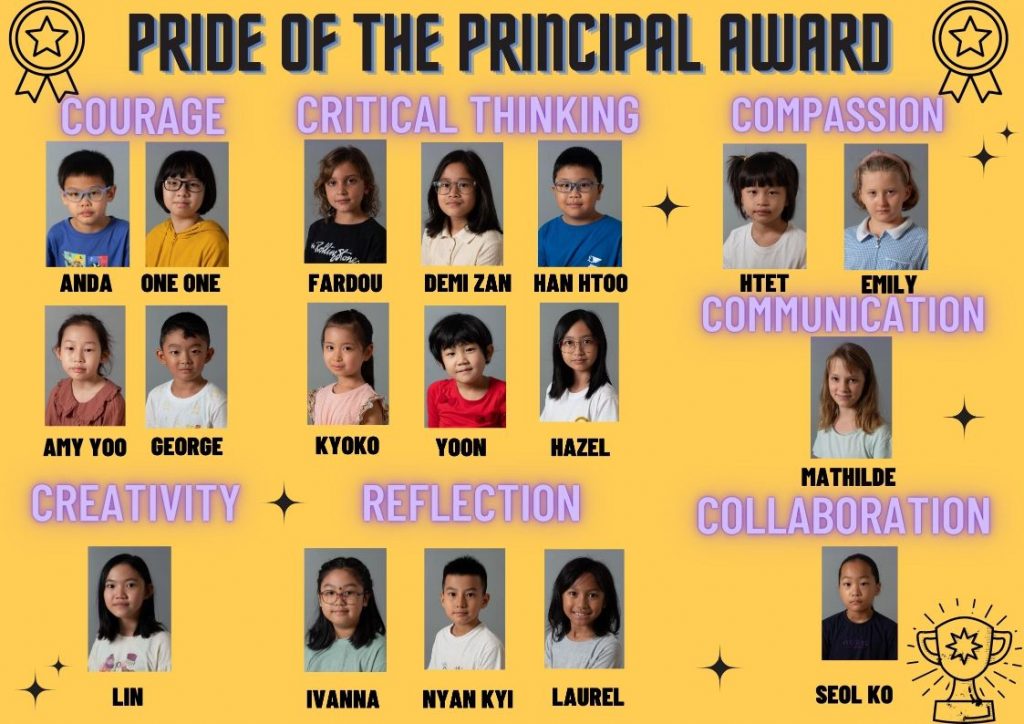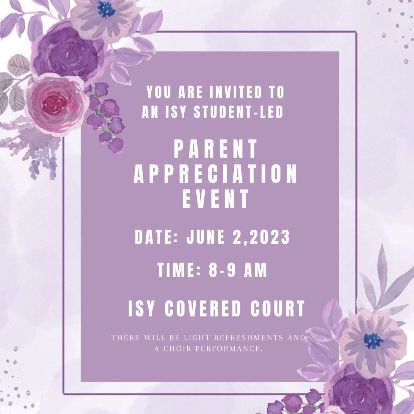 THANK YOU TO THE PARENT'S FOR OUR WONDERFUL LUNCH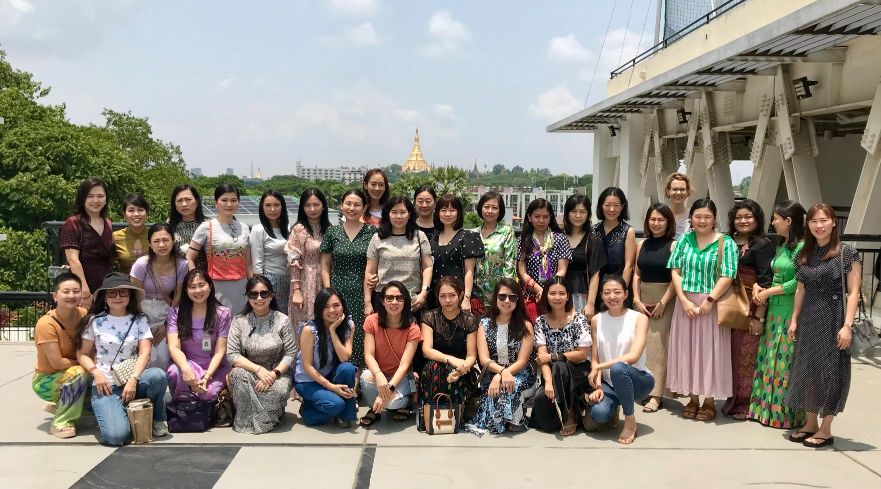 PARENT TEACHER ASSOCIATION ANNUAL GENERAL MEETING
Will be held on the 2nd of June at 9 AM in the Cafeteria, after the Parent Appreciation event.
The Parent Association will be sharing a traditional Mohingar breakfast.
Come and join them to find out more about the work the Parent Association has done this year.
Dates to Remember
1st June – Grade 5 ComPassion Project Showcase – 5-7 PM (see invite below)
2nd June – Parent Appreciation breakfast event 8-9 AM
2nd June – Parent Association Annual General Meeting 9 AM in the Cafeteria
9th June – Last day of school (11:30 finish for students)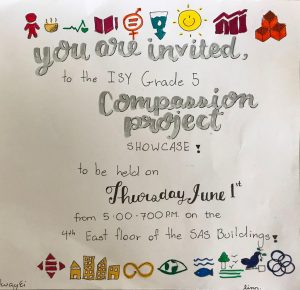 Grade 5 students presenting for their ComPassion project in assembly today. They presented on the dangers of slide tackling in football.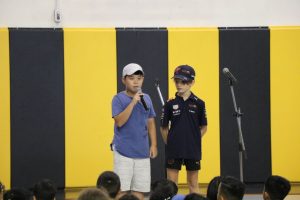 AI UPDATE
Several ISY teachers attended a workshop on Artifical Intelligence in education last week.  It was a fascinating meeting where faculty firstly learned best practices on ethical and responsible use of AI in the classroom.  They got practical advice on how to ask questions and how to help students ask the right questions too.  Filtering out bias and innacuracy was also an important part of the discusion.
Finally, teachers got some hands on practice at using some of the newest AI based technology in education.  ISY is committed to proactively engaging with AI in education making sure the school is a responsible leader in this technology going forward.
REMINDER
The campus is not supervised until 8:00 AM each morning when we have one teacher on duty.
ISY STAFF ART EXHIBITION
The wonderful talent of the ISY staff is on display in the art gallery on the 4th floor of the SAS building. Last night there was a grand opening for staff to celebrate all their wonderful creations. We love to see talent celebrated from our students but also the opportunity to celebrate our staff. Feel free to visit and have a look.
TRANSITIONS AT ISY
While we still have a lot to do in the last three weeks to finish this year strongly, we are very much focused on smooth and successful student transitions into next year.
We place a lot of importance on transitioning students into their next grade level and are also very careful to emphasize that all students are part of the same compassionate community – regardless of their grade level or whether they are in Elementary, Middle or High School.
This year, we have been very deliberate in strengthening the connections between the Elementary, Middle and High Schools. We have combined the Elementary and Secondary School Offices, many of our teachers teach in Elementary and Secondary School, Middle and High School students now attend the same assemblies and celebrations together, and there have been some wonderful collaborations between grade levels across the school.
The connections between students from different parts of the school are also clear to see on the playground and the way that they interact with each other. This is very pleasing to us as it shows that our students feel that they belong to the same community and this is a feeling that we will keep nurturing at ISY.
As our students change grade levels or change from Elementary to Middle to High Schools, it is very helpful for them to feel that they are moving through the same community instead of moving on to a different one. The confidence that comes from belonging to a strong community is what makes for smooth and successful transitions throughout each student's time at ISY.
Monday Math
Monday Math champions enjoying lunch in Ms. Sheppard's office.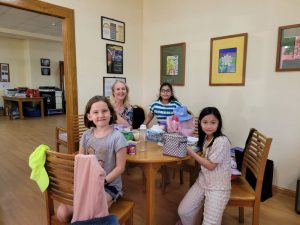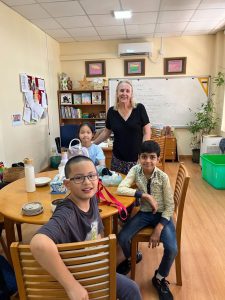 Healthy Summer Time Activities
As we quickly reach the end of the school year, it occurs to me that although many children are thrilled at the idea of relaxing without school expectations, many others struggle with the lack of structure and consistency. So while I believe summer is a time for relaxation and rejuvenation, I also believe that many parents need support in how to best help their children structure this time. Here are a few things to keep in mind.
Brainstorm a List of Activities: At the start of break, sit with your child and create an extensive list of activities they might be able to do on their own when they report being "bored." Being bored is not a terrible thing. Many creative activities are born out of boredom. Unfortunately, many children will flee to their screens the moment they feel bored. Having a prepared list of activities to refer to can remind or trigger more industrious activities.
Must Dos and Can Dos: For children needing more structure, make a daily or weekly schedule of activities. Label them as "Must Dos" for those that are required for the day. These might be daily chores or planned outings. Include a list of "Can Dos." These are activities that your child can elect to do, that might broaden their expectations or provide activities for less energetic times.
Reading: Consistently studies show that children need to read daily over the summer months to prevent reading loss. 20-30 minutes a day of silent or shared reading is all it takes to maintain and in most cases, expand reading proficiency over the summer.
Physical Activity: It is essential for children to remain active throughout the summer months. Beyond the obvious health and weight benefits, physical activity also develops leadership skills, confidence and coordination. Scheduling regular daily physical activities will help your child's social emotional and physical being over the break.
As always, Ms. Patty is happy to meet with you to discuss further summer time activities or other concerns that your family faces. It has been her pleasure to work and serve ISY. She can be reached at escounselor@isyedu.org Enjoy your summer holiday!
The International School Yangon
20 Shwe Taungyar Street
Bahan Township
Yangon, Myanmar
+95 (0) 9 880 441 040