Elementary Principal's Blog

Sandy Sheppard, Elementary School Principal
Dear all,
A big thank you to all those who attended parent conferences on Wednesday; we appreciate your support. Our next big event is International Day on the 18th of November; we really hope we can get a great turnout for this important ISY community event.
All the upcoming dates from now until the December break are listed below.
Special thanks to our Indian parent community for hosting our assembly today to celebrate Diwali. All appreciated the magical dances and the traditional food handed out. Thank you to The Vivekanand Cultural Centre, Embassy of India, Yangon, for their wonderful presentation of dances.
A reminder that Round 1 of After School Activities has finished. The next round starts on January 29.
Have a wonderful weekend.
Ms Sheppard

International Day
International Day will take place on Saturday, November 18th. Students are expected to arrive by 3:30 p.m. and go straight to the gym to prepare for the Parade of Nations, which will start at 4:00 p.m. Parents can watch the parade from outside at locations around the field.
Between 4:30 and 5:00 p.m., the country booths will open, where you will be able to sample the culture from some of the different nationalities represented at ISY.
At around 5:30 p.m., the Cultural Show will start with performances from our school choir and students in many Grade levels. It is anticipated the show will finish around 7:00 p.m.
Raffle tickets are on sale now for 2,000 Ks. each and can be bought at the business office or through class representatives. Tickets are already selling fast for the raffle.
We look forward to seeing you there.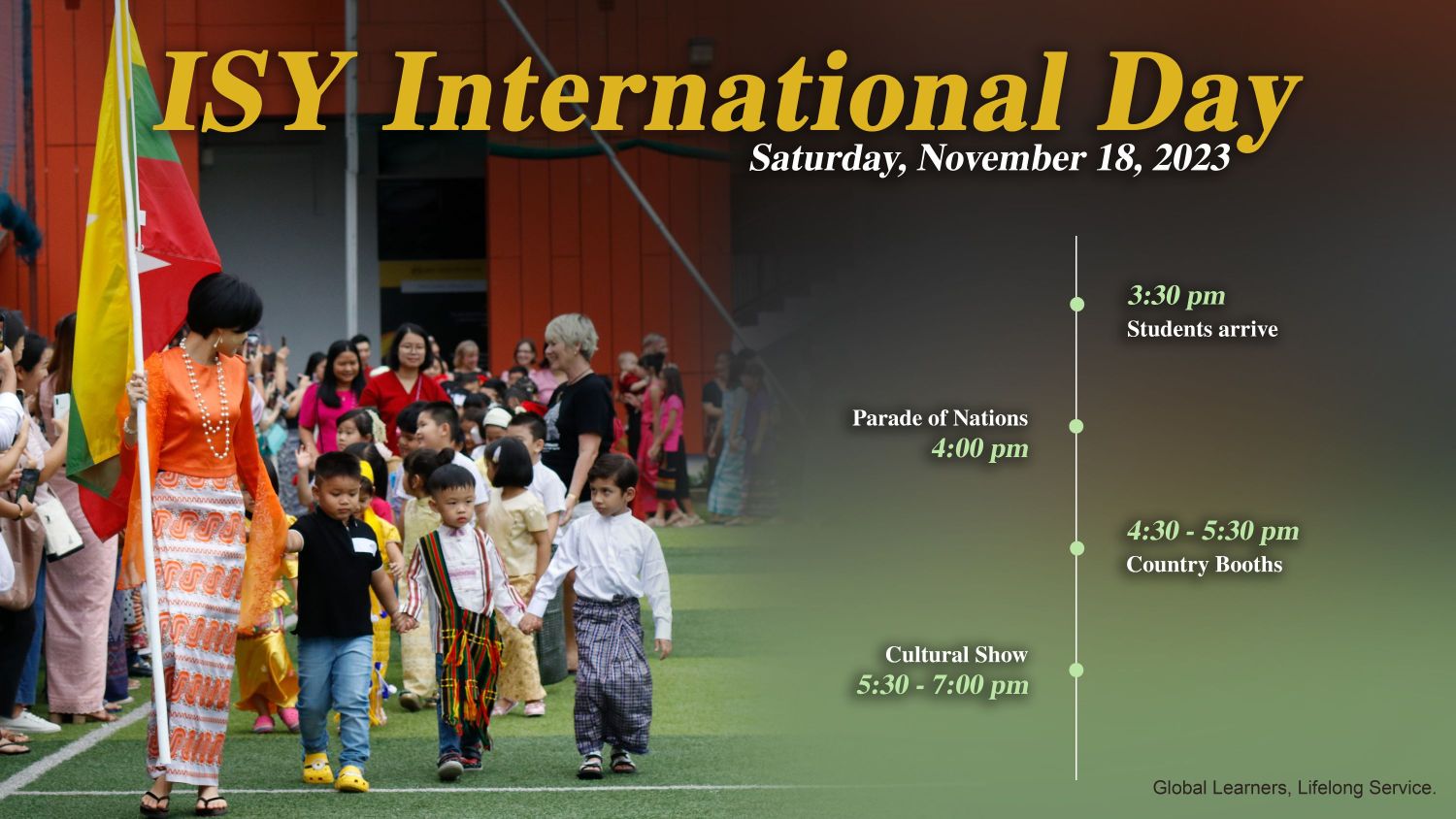 MAKE SURE YOU READ ALL THE INFORMATION ABOUT INTERNATIONAL DAY
Donations of Clothing and Toys Needed!
The service learning groups of Care to the Least and Elementary Student Council are teaming up to organize a gently used clothing, accessories, and toy sale. Please look through your closets and drawers to find your unwanted clothing and toys. Please ensure that the items are clean and complete. Donations can be left on the school front steps from November 13-December 1st. The sale will be held on December 6th at the Holiday Bazaar, and all proceeds will go to The Chinthe Fund.
Dates to Remember
10th November – ES Movie Night 5:30 – 7:00PM
10th November – After School Activities Round 1 end
16th November – Grade 5 Parent Trip Meeting 5:00 – 5:30 PM in the MPR
18th November – International Day – Students arrive by 3:30 – 7:00 – see below for more information
30th November – Family Afternoon of Poetry – 2:45 – 4:00
24th – December 1st – Poet visit to school
27th November – No School
6th December – Holiday Bazaar (more information to come)
15th December – Last day of school – December Break starts
THIS SECTION
LEARNING AT ISY
Our passionate and experienced educators continuously seek out the latest research and practices to create dynamic and engaging classrooms where students thrive.
Whether it is integrating technology, fostering critical thinking, or promoting social and emotional development, our approach is always forward-thinking. Through learning opportunities, we encourage the development of our ISY learner attributes. Every week, see the photos below highlighting learning at ISY. This week's photos highlight our special Diwali celebration assembly, art class fun, and rainbows from KG.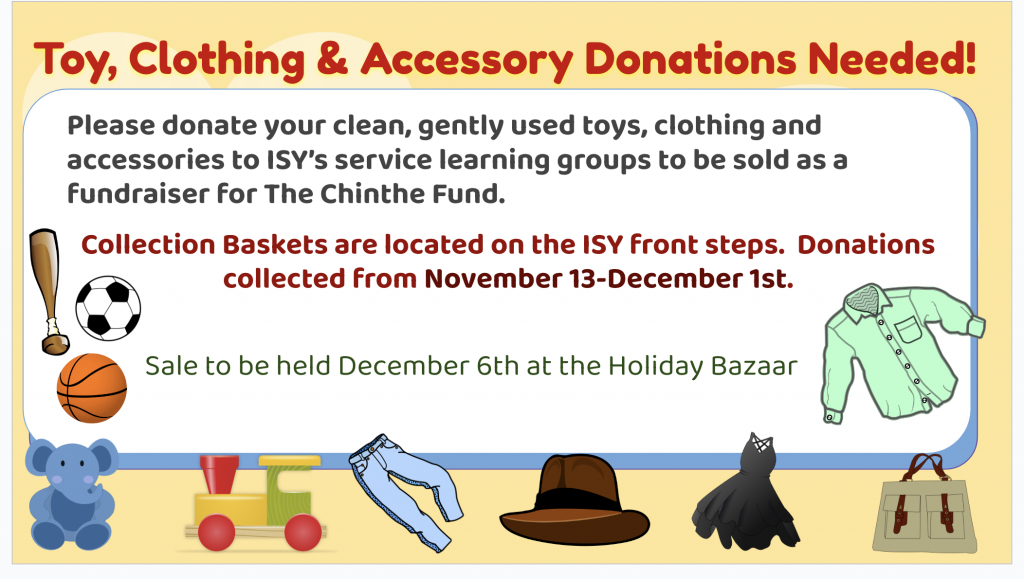 THE HOLIDAY BAZAAR WILL BE ON DECEMBER 6. WE WILL BE RAISING MONEY THROUGH VARIOUS STUDENT ACTIVITIES FOR THE CHINTHE FUND.
YOUR SUPPORT IS APPRECIATED.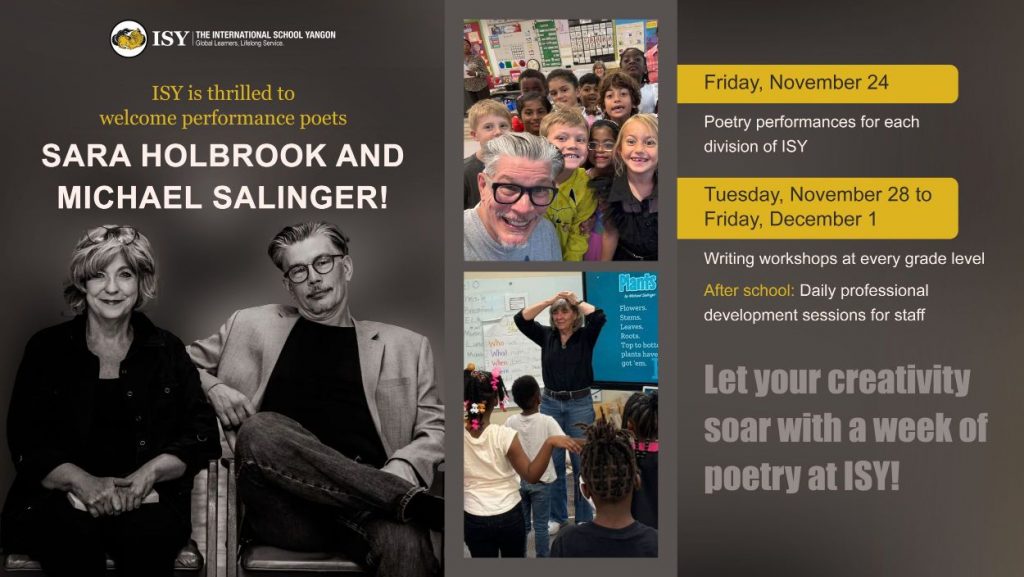 ISY will be hosting these wonderful poets at our school. They will be working with students and teachers. See this wonderful opportunity to attend a family event. We would love you to come along. 

Executive Functioning Skill #1: Planning
Planning is a well-thought-out strategy before attempting to accomplish a task.  Planning is an important executive functioning skill because, when done well, it will allow your child to complete the task efficiently and without less frustration.  Planning involves thinking through the materials needed, the time it might take, and the supports required to be successful.  You can support your child in developing planning skills by:
Start the day with a review of the family's activities for that day.  Remind your child of their ASA or afternoon activities.  Review with them how they will get to these activities and where they need to be to participate.

Using and modeling a calendar.  A visual display of the upcoming events and family activities can help a child understand & prepare for the activities.

Have your child pack their own school bag.  As they pack, talk with them about their upcoming day.  What materials will they need?  What items are unnecessary?

Read and review your child's google classroom.  Together look over the assignments, help them create a plan to complete their work by the assigned dates.
If you notice your child is struggling to use the skill of planning and have tried the above strategies, feel free to reach out to Ms. Patty for support at escounselor@isyedu.org 
CHINTHE CUBS
Chinthe Cubs
Recently, our Chinthe Cubs team met with Ms. Bekka, our elementary music teacher, to learn more about her.  Check out this latest video produced by our ISY elementary students.
Chinthe Cub is a service learning program in the ISY elementary school that provides public service announcements for the community.  The programming is designed, produced, and created by elementary students. 
The International School Yangon
20 Shwe Taungyar Street
Bahan Township
Yangon, Myanmar
+95 (0) 9 880 441 040