Elementary Principal's Blog

Sandy Sheppard, Elementary School Principal
Dear all,
It is here the very anticipated annual International Day. We look forward to welcoming you all tomorrow. This is such a wonderful ISY community event that celebrates our school community, and the many nations represented at ISY. We know the students are looking forward to it, and we hope you are as well. 
See you there
Ms Sheppard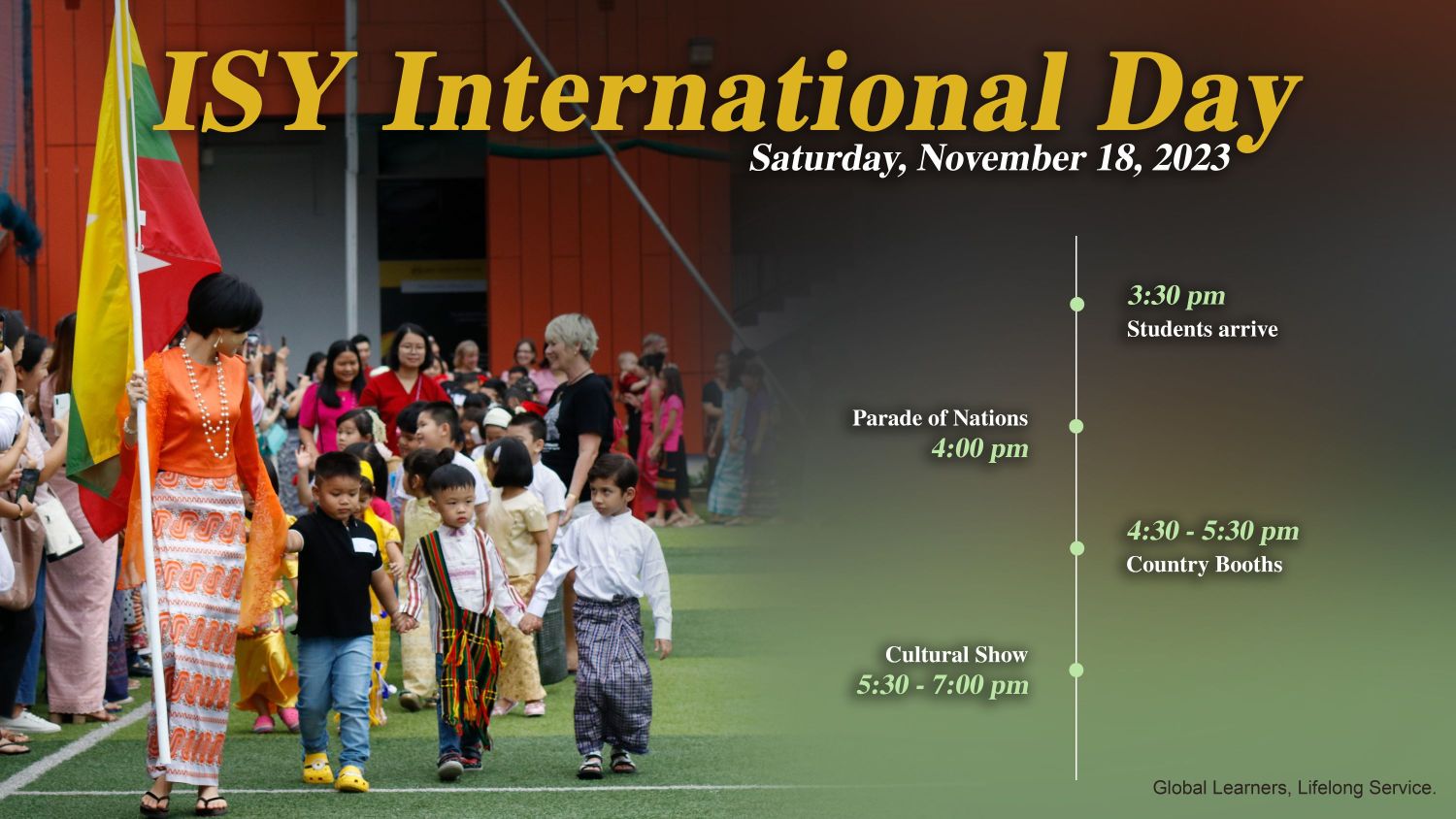 INTERNATIONAL DAY
The International School Yangon has its traditional International Day this coming Saturday, 18th November, 2023. This important community event celebrates the many countries we have represented here at ISY. 
The schedule of the day is as follows:
3:15pm

– Arrival of parents and students. Students are to gather in the Gym for the Parade of Nations. Please ensure your child/ren are on time. 
4:00pm

–

Parade of Nations

– The students will parade behind their flags. The oldest student of each nation will carry the flag. Parents can wait to view the parade along the perimeter of the field, teachers will supervise the students in the Gym.
4:30pm

–

Country Booths

– After the parade, families can freely enjoy the booths, which offer a taste of the cultures represented through food, games, and displays. The booths are hosted by the ISY community. Additionally, the Parent Association will sell raffle tickets to raise money to support student activities. Refreshments and ISY Gala tickets will be available to purchase. 
5:45pm

–

Cultural Show

– Music performances from various countries will take place on the stage. We encourage everyone to come and enjoy the show. Raffle draws will take place during the show.
Please note that Parking will be limited due to an event at the Italian Embassy, so we encourage you to arrive early.
Non-ISY guests are welcome to attend the International Day as long as they are accompanied by a member of our community. We look forward to seeing you all there for this fabulous annual celebration.
REHEARSALS FOR THE CULTURAL SHOW
We cannot wait to watch the show tomorrow!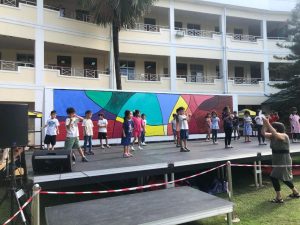 KINDNESS & COMPASSION CLUB
Our latest addition to recess time comes from the Kindness and Compassion Club. Students can use the wheel to find activities to do. This allows for a fun way to be engaged and supports building caring relationships. Thank you to our wonderful students!
Dates to Remember
18th November – International Day – Students arrive by 3:30 – 7:00 – see below for more information
30th November – Family Afternoon of Poetry – 2:45 – 4:00
24th – December 1st – Poet visit to school
27th November – No School
6th December – Holiday Bazaar (more information to come)
15th December – Last day of school – December Break starts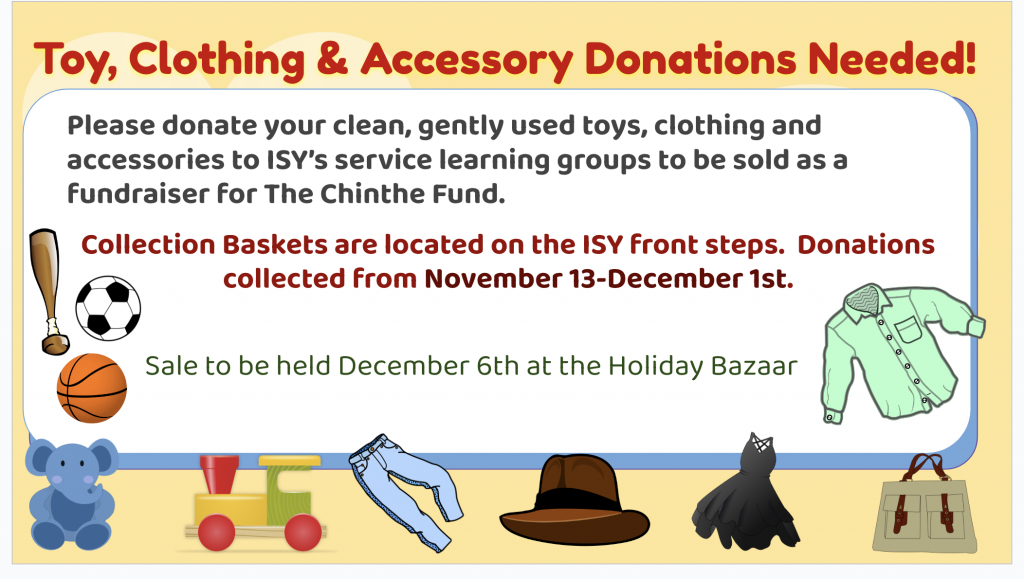 THE HOLIDAY BAZAAR WILL BE ON DECEMBER 6. WE WILL BE RAISING MONEY THROUGH VARIOUS STUDENT ACTIVITIES FOR THE CHINTHE FUND.
YOUR SUPPORT IS APPRECIATED.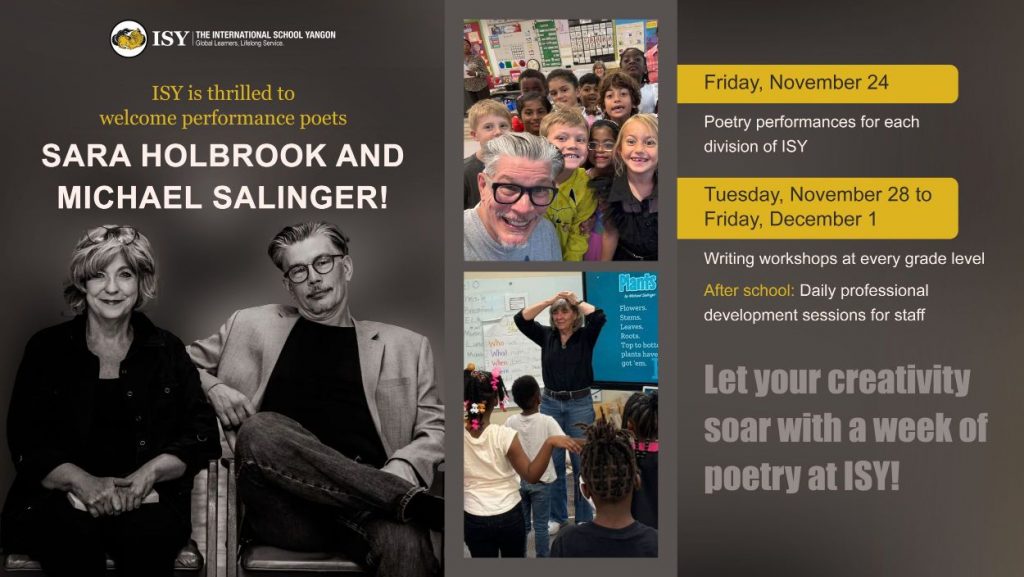 ISY will be hosting these wonderful poets at our school. They will be working with students and teachers. See this wonderful opportunity to attend a family event. We would love you to come along. 

Executive Functioning Skill #1: Planning
Planning is a well-thought-out strategy before attempting to accomplish a task.  Planning is an important executive functioning skill because, when done well, it will allow your child to complete the task efficiently and without less frustration.  Planning involves thinking through the materials needed, the time it might take, and the supports required to be successful.  You can support your child in developing planning skills by:
Start the day with a review of the family's activities for that day.  Remind your child of their ASA or afternoon activities.  Review with them how they will get to these activities and where they need to be to participate.

Using and modeling a calendar.  A visual display of the upcoming events and family activities can help a child understand & prepare for the activities.

Have your child pack their own school bag.  As they pack, talk with them about their upcoming day.  What materials will they need?  What items are unnecessary?

Read and review your child's google classroom.  Together look over the assignments, help them create a plan to complete their work by the assigned dates.
If you notice your child is struggling to use the skill of planning and have tried the above strategies, feel free to reach out to Ms. Patty for support at escounselor@isyedu.org 
CHINTHE CUBS
Chinthe Cubs
In this latest video created, filmed and produced by Chinthe Cubs members, Ms. Laura Magers is interviewed.  Ms. Magers, one of our ISY 3rd grade teachers, shared her thoughts about being a part of the ISY community.
The International School Yangon
20 Shwe Taungyar Street
Bahan Township
Yangon, Myanmar
+95 (0) 9 880 441 040