Elementary Principal's Blog

Sandy Sheppard, Elementary School Principal
Dear all,
We have two upcoming events in November; Spirit Week and our annual International Day.
Sign-up forms for a Country Booth and Cultural Show performance can be found below.
The Parent Association needs your help to donate raffle prizes for the annual International Day raffle. Proceeds go to the ISY Parent Association to be used to support student activities. See below for more information.
Have a fabulous weekend!
Ms. Sheppard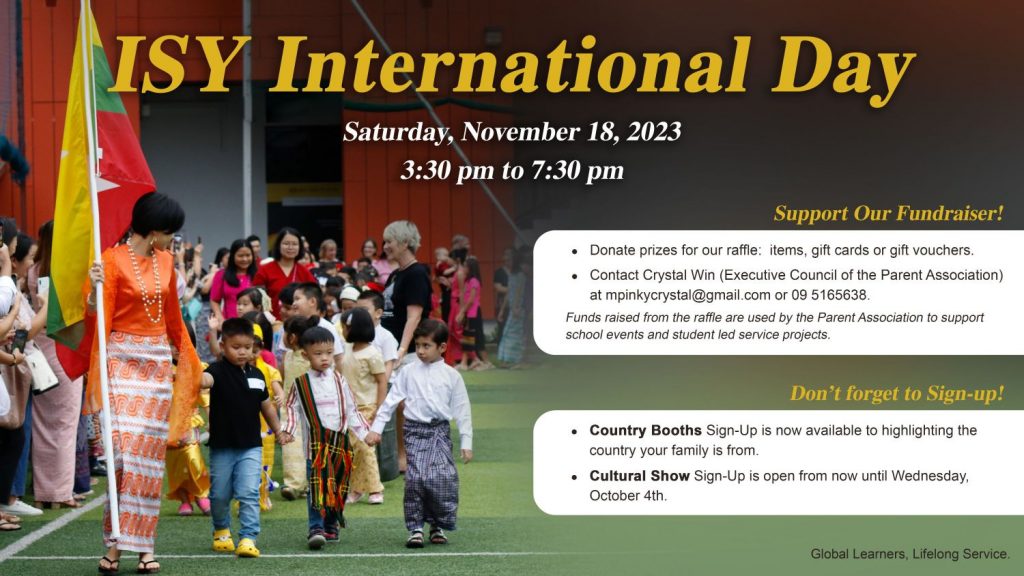 International Day Reminders
Raffle Donations, Country Booths & Cultural Show
Raffle Prizes: If you are able to help with raffle prize donations, please send your name and contact details to 

Crystal Win who is on the Executive Council of the Parent Association. Her email is: 

mpinkycrystal@gmail.com

 and her mobile number is: 09 5165638. Thank you to all those who have donated so far.

Country booth sign-up: These booths are organized and run by community members. If you would like to host a booth highlighting the country your family is from, please fill out this 

Country Booths form

. 

Cultural Show: Sign up for the Cultural Show. 

Please fill out this 

Cultural Show Sign-up Form

 by Wednesday, October 4th. 

You will receive an email 

notification

 after October 6th, if your act has been approved.
ISY Spirit Week
From the 31st of October to the 3rd November, ISY will celebrate Spirit Week at school. The Myanmar celebration of Thadingyut, also known as the Lighting Festival, will be incorporated into this week.  The week not only fosters belonging and school spirit at ISY but also promotes a sense of cultural awareness.
SWIM TEAM
Congratulations to all the swimmers in our internal swim meet held last Friday.
It was great to see the families and swimmers supporting each other.
Our Kindergarten students are exploring ideas on how to attract Butterflies to our plants. Here is one of their ideas in action. 
Dates to Remember
18th October – Chinthe Parent Learning Circle – 8:30 a.m., Multi-Purpose Room
21st – 31st October – Thadingyut Holiday 
31st October – 3rd November – Spirit Week
3rd November – Progress Reports go home – 3:00 p.m.
3rd November – Elementary Spirit Week parade and fun games organized by the Parent Association
8th November – Parent/Teacher Conferences (no school for students) 9:00 – 5:00 p.m.
18th November – International Day
LEARNING AT ISY
Our passionate and experienced educators continuously seek out the latest research and practices to create dynamic and engaging classrooms where students thrive.
Whether it's integrating technology, fostering critical thinking, or promoting social and emotional development, our approach is always forward-thinking. Through learning opportunities, we encourage the development of our ISY learner attributes.  See the photos below highlighting creativity and collaboration.
TECHNOLOGY AGREEMENT
Student Agreement of Acceptable Technology Use As responsible digital citizens, our students are required to sign a Student Agreement of Acceptable Technology Use every year. The agreement is explained to students in class before they sign it each year. Once a student signs the agreement, parents will receive an email to also sign it. As parents, please look out for this email and contact our Secondary School office if you have any questions.
MESSAGE FROM THE CLINIC
Reporting illness: If your child is not feeling well, before attending school, please keep them home. If you medicate your child before attending school, it may be an indication that he/she needs to stay home. Please click here to find out when your child is too sick to come to school.  If your child has been diagnosed with a possibly contagious illness, such as COVID-19, flu, Hand Foot and Mouth disease, Chickenpox (varicella) please notify the school immediately. 
ADAPTIVE SCHOOLS STRATEGIES
We are excited to share some highlights from this week that align with our strategic theme of 'Learning.' Our teachers have been putting their recently acquired adaptive school strategies, learned during our orientation professional development, into practice.
One such strategy is the engaging 'Museum Tour,' designed to nurture collaboration and peer learning among our students.
These snapshots offer a glimpse into the interactive Museum Tour experience, illustrating how it empowers our students to collaborate and learn from one another.
Stay tuned for more exciting updates as we continue to implement these innovative strategies to enhance your child's educational journey.

Signs of Problematic Social Media Use
This week, Mr. A-G and I had the privilege of meeting with parents to discuss the American Pediatric Association's (APA) May 2023 recommendations regarding Youth and Social Media usage. These helpful recommendations provide insights into how we can optimally assist our children in navigating their social media interactions. Among the recommendations, one notable suggestion is the regular screening of adolescents for signs of "problematic social media use." Such problematic usage patterns can potentially hinder their capacity to effectively manage their daily activities, and over time, may even expose them to more severe psychological challenges. So, the pressing question arises: What specific indicators should we be vigilant for?
Using social media even when a child wants to stop or when it's getting in the way of important tasks.

Trying hard to always have access to social media.

Wanting to use social media or feeling upset when not using it, which disrupts other activities.

Spending more time on social media than originally intended.

Being dishonest or tricky to continue using social media.

Losing important friendships or opportunities in school because of social media use.
If you'd like to explore the APA's other recommendations, an article can be found here.  The presentation can be found here.
CHINTHE CUBS
Chinthe Cubs
This week the Cubs interviewed the new early childhood teacher, Mrs. Chrissy Pozniak.  We hope you enjoy the conversation.
Chinthe Cub is a service learning program in the ISY elementary school that provides public service announcements for the community.  The programming is designed, produced and created by elementary students. 
The International School Yangon
20 Shwe Taungyar Street
Bahan Township
Yangon, Myanmar
+95 (0) 9 880 441 040