Elementary Principal's Blog

Sandy Sheppard, Elementary School Principal
Dear all,
We have had a wonderful week at ISY. We continually focus on our school Mission and Vision here at ISY. I have added some photos below that represent some of the displays found in A Building.
After School Activities have completed their second week. The students are enjoying a variety of activities.
Thank you to all those who attended the Parent Association General Meeting. Special thanks to everyone who signed up to serve on a committee. Your support is appreciated.
Planning has started for our annual International Day on the 18th of November. Look out for information in the blog on how you can get involved. This could include:
Donating raffle prizes
Running a country booth
Sharing a cultural show performance
Have a fabulous weekend!
Ms. Sheppard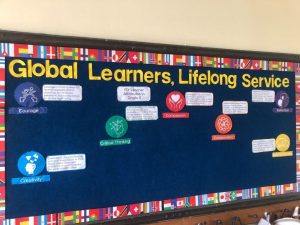 Grade 3 work that reflects our school Mission and Vision
Celebrating our ISY Global Citizens
PARENT ASSOCIATION GENERAL MEETING
INTRODUCING OUR NEW PARENT ASSOCIATION EXECUTIVE BOARD
We are pleased to announce the members of our 23-24 Executive Board for the Parent Association. 
Ms. Lwin Mon Thant

– President

Ms. Paula Gil Baizan –

Vice President

Ms. Nila Wynn Aung –

Secretary

Ms. Crystal Win –

Treasurer

 
Thank you for your support.
PAJAMA DAY
Pajama Day fun in Kindergarten. The students wore their pajamas to school and had lots of fun with activities, including making donuts.
TURNSTILES
From this Monday, our security turnstiles will be in operation. Students will use their ISY Photo ID Cards (Secondary School) or Bracelets (Elementary School). Students/Parents can contact the school office if they need a replacement card or bracelet.
MAP TESTING
Over the next two weeks, we will be MAP (Measures of Academic Progress) testing students in Grades 2 to 9. MAP assessments are online adaptive assessments that provide useful data in developing a fair and accurate assessment of a student's academic achievement and growth. Students will sit MAP assessments in Math, English, and Language Usage.
To ensure a fair and accurate assessment of a student's academic growth and achievement, teachers combine MAP assessment data with all other student data that they have collected in the classroom. This combination of data informs teacher instruction in meeting the needs of each child.
Click here for more details about the what, why, and how of MAP testing at ISY.
Dates to Remember
11th September – Turnstiles are closed – ID is required for entry
3rd November – Progress Reports go home
18th November – International Day
NEW Nourish Meal Plan
Menu changes have been made to the Nourish meal plans, and these are available to order now through PowerSchool. This is the new Nourish meal plan that is available to order for next week, commencing 11th September.
The food on offer at ISY at both Nourish and Gusto plays a crucial role in students' overall health, well-being, and academic performance. We want to create a healthy eating culture that promotes nutritious food choices, provides access to balanced meals, and aligns food and nutrition practices with classroom education. Here are a few key points to consider why we are doing this:
One of our Strategic Themes at The International School Yangon is 'Sustainability', where students cultivate sustainability through a focus on Service Learning and The United Nations Sustainable Development Goals (SDGs).  At ISY we want to be part of the environmental drive to offer students a healthy, nutritious, plant-based diet that contributes towards lower greenhouse gas emissions. 
Please view our blog post on the impact of food on the environment and the Nourish Ordering Procedures guide which shows you more information about how to order your child's lunch from Nourish.
The new Nourish meal plan items are available to order for the coming week commencing 11th September, 2023.  Parents must order meals weekly in advance, by 5pm every Thursday through PowerSchool.
SERVICE LEARNING VISIT
School Administration and Service Group leaders visited the Care to the Least Orphanage this week. The purpose of the visit was to look at ways our service groups can practically support the orphanage.

Counseling Services Available at ISY
As the elementary counselor for the past 8 years, it has been my pleasure to work with and be a part of this amazing community.  Throughout the years the counseling department has adapted and navigated as the needs of the community have changed.  Here are some of our current services:
Counseling Services for students, parents, and families.  These confidential sessions support community members regarding a variety of issues including, but not limited to: child development, family crisis, and behavioral support.

Group Work: Students are supported in a group setting with issues such as social interactions, emotion regulation, transition support, and leadership.

Social-Emotional Learning:  Life Skills is a class taught PreK-Grade 5 which teaches problem-solving skills, conflict resolution, assertiveness, digital citizenship, personal safety, and goal setting.

Academic Support: Working closely with the classroom teachers and Learning Support Services, through meetings and data collection, I seek to ensure all students successfully navigate their learning journey.
If any of these services can support your child or family, please reach out at escounselor@isyedu.org.  I am happy to support and assist your child and your family.
Warm regards, Ms. Patty
The International School Yangon
20 Shwe Taungyar Street
Bahan Township
Yangon, Myanmar
+95 (0) 9 880 441 040