Introducing Chinthe Expeditions!
Mike Simpson
Secondary School Principal
September 22, 2023
We are very excited to announce the introduction of Chinthe Expeditions for our Secondary School students! Our new Chinthe Expeditions program replaces what was formerly known as Week Without Walls.
During the week of December 11, all of our Middle and High School students will be travelling within Myanmar to experience different cultures and engage in service learning activities and projects.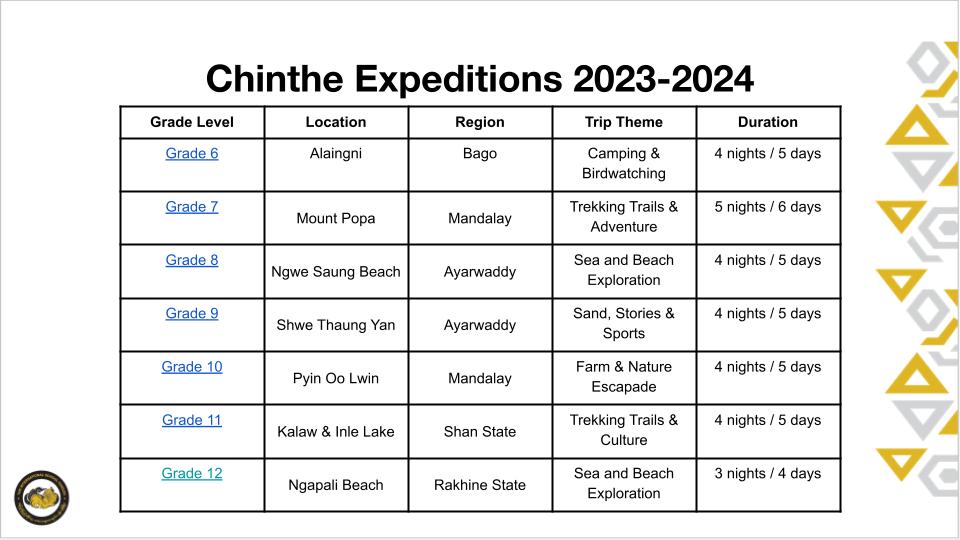 The trips, as outlined above, have been confirmed after a thorough consultation period in which we considered proposals from several different providers. We are very happy to be partnering with Oway Travels and Tours Company Limited to provide these experiences for our students which are designed to further our school's compassionate Mission and Vision and supplement and support what our students are learning in our classrooms.
In keeping with our Mission and Vision and our Belonging and Internationalism strategic themes, it is very important to us for our students to feel connected to our host country Myanmar. Each trip will be tailored for our students to learn about the culture, history, and geography of a specific region of Myanmar. 
As they learn, students will engage in meaningful service learning projects and partnerships that will benefit the region's people and environment. In contributing towards these projects and partnerships, our students will draw strength from our Learning and Sustainability strategic themes.
As these trips are connected to our curriculum, the expectation is that all students will participate as a part of the ISY academic program. Therefore, the cost of each trip is included in tuition fees.
Our students will be accompanied and mentored by professional guides with extensive local and international experience. These guides will work closely on these trips with our own teachers who are very much looking forward to working with their students outside of the classroom. 
We are sure that you are eager to learn more about the trips that we have designed for your children. This Tuesday, September 26 at 6:30pm in our Multi-Purpose Room, we will be holding a Chinthe Expeditions Information Session for all Secondary School parents. In this session, we will provide you with a general overview of the trips and answer any questions that you may have.
Chinthe Expeditions Information Session
Multi-Purpose Room
Tuesday, September 26
6:30pm
Immediately after Tuesday evening's information session, we will send out an online form to all parents for you to acknowledge that your child will be participating in our Chinthe Expeditions program as part of the ISY academic program.
We look forward to seeing you on Tuesday evening and in the meantime, please do not hesitate to contact me with any questions you may have.
Secondary School Events
This week:
Tuesday:
MS Basketball v ISM: 3:30pm at ISM
Chinthe Parent Learning: Child Safeguarding at ISY: 5:30pm in Multi-Purpose Room (see below for details)
Chinthe Parent Learning: Secondary School Chinthe Expeditions: 6:30pm in Min Multi-Purpose Room (see above for details)
Wednesday:
YAC Volleyball Semi-Finals: 3:30pm (venue to be confirmed)
Thursday:
MS Basketball v YIS: 3:30pm at YIS
Friday:
YAC Volleyball Finals: 3:30pm (venue to be confirmed)
Upcoming Events:
October 21-31: Thadingyut Holiday
November 3: Quarter 1 Reports available on Powerschool
November 3: Autumn Festival
November 8: Parent Teacher Conferences (no school for students)
November 18: International Day
Student Agreement of Acceptable Technology Use
As responsible digital citizens, our students are required to sign a Student Agreement of Acceptable Technology Use every year. The agreement is explained to students in class before they sign it each year. Once a student signs the agreement, parents will receive an email to also sign it. As parents, please look out for this email and contact our Secondary School office if you have any questions.
Counselor Weekly Newsletter
Every week, Mr. A-G, our High School Conselor, provides our High School students with a weekly newsletter. This newsletter provides students with information about a variety of topics including college and university application processes.
Chinthe Parent Learning: Youth & Social Media Use
Join us on Tuesday, September 26th, for an informative session on "Youth and Social Media Use" organized by the ISY counseling department. We'll delve into the latest recommendations from the American Pediatric Association regarding youth and their social media usage, as part of our child safeguarding policy. Discover how you can help your child use social media productively. The event will take place at 5:30PM in the Multipurpose Room. We look forward to seeing you there!
Chinthe Parent Learning: Youth & Social Media Use
Multi-Purpose Room
Tuesday, September 26
5:30pm – 6:30pm
Message From the Clinic
Reporting illness: If your child is not feeling well, before attending school, please keep them home. If you medicate your child before attending school, it may be an indication that he/she needs to stay home. Please click here to find out when your child is too sick to come to school.  If your child has been diagnosed with a possibly contagious illness, such as COVID-19, flu, Hand Foot and Mouth disease, Chickenpox (varicella) please notify the school immediately. 
Nourish Healthy Meal Plan
Menu changes have been made to the Nourish meal plans, and these are available to order now through PowerSchool. This is the new Nourish meal plan that is available to order for next week, commencing 11th September.
The food on offer at ISY at both Nourish and Gusto plays a crucial role in students' overall health, well-being, and academic performance. We want to create a healthy eating culture that promotes nutritious food choices, provides access to balanced meals, and aligns food and nutrition practices with classroom education. Here are a few key points to consider why we are doing this:
One of our Strategic Themes at The International School Yangon is 'Sustainability', where students cultivate sustainability through a focus on Service Learning and The United Nations Sustainable Development Goals (SDGs).  At ISY we want to be part of the environmental drive to offer students a healthy, nutritious, plant-based diet that contributes towards lower greenhouse gas emissions. 
 Please view our blog post on the impact of food on the environment and the Nourish Ordering Procedures guide which shows you more information about how to order your child's lunch from Nourish.
The new Nourish meal plan items are available to order for the coming week commencing 11th September, 2023.  Parents must order meals weekly in advance, by 5pm every Thursday through PowerSchool.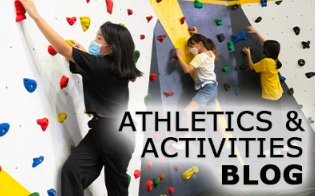 International Day
We are going to have the well-anticipated International Day on Saturday, 18th November at the ISY campus. This is a school-wide event, which is a tradition of ISY to celebrate our ISY community and our cultural diversity.
We would like to invite you to participate in our fundraising by donating a suitable prize for our raffle. Items, gift cards or gift vouchers that you could donate for the raffle would be very much appreciated.  Funds raised from the raffle are used by the Parent Association to support school events and student-led service projects.
If you are able to help us, then please send your name and contact details to:
Crystal Win who is on the Executive Council of the Parent Association. Her email is: mpinkycrystal@gmail.com and her mobile number is: 09 5165638
Art Collaboration Invitation
The Art department in collaboration with the ASA Canvas group has been working on a community mural. We would like to encourage all the community to contribute to this.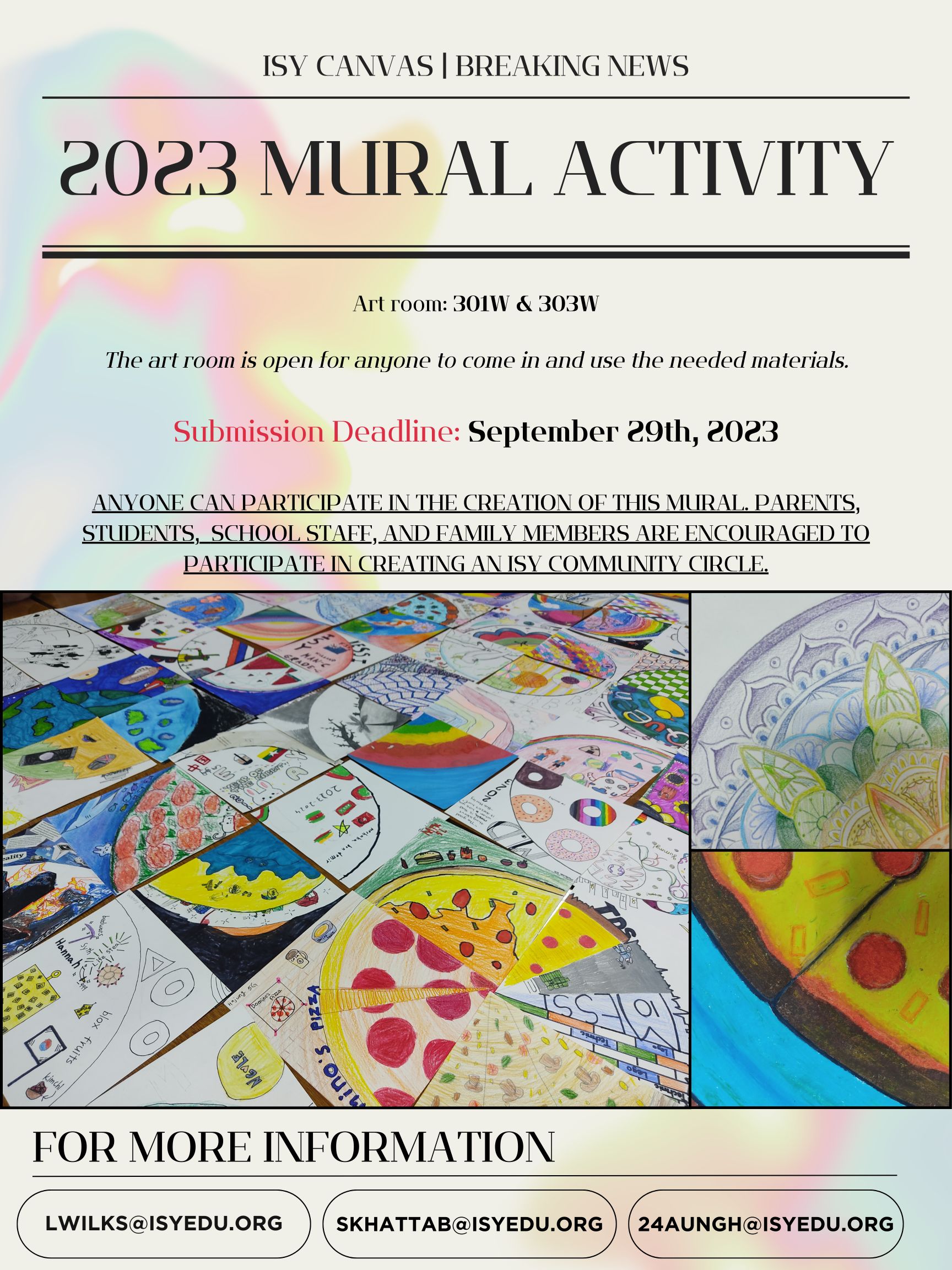 Yangon

 

Inter

-School Football Championship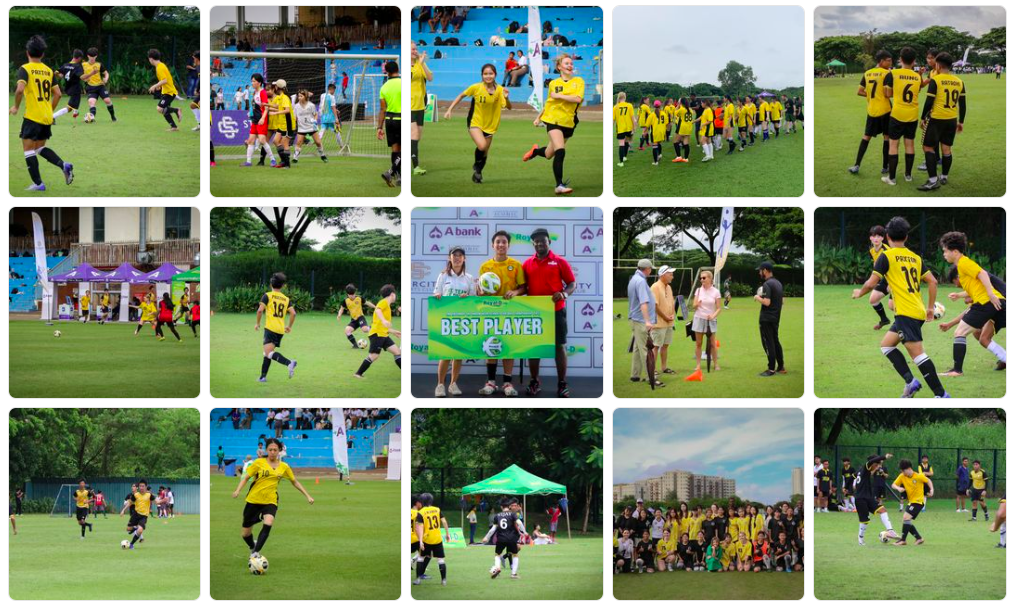 Faculty Visit to Yangon Animal Shelter

Faculty Service Learning Workshop

The International School Yangon
20 Shwe Taungyar Street
Bahan Township
Yangon, Myanmar
+95 (0) 9 880 441 040