Middle school
Preparing students for what lies ahead in High School, our ISY Middle School is the perfect transition from the Elementary School.  Our ISY Middle School caters for students in Grades 6, 7, and 8.
Latest Blog Posts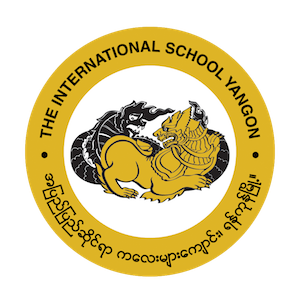 ISY Middle School Purpose & Philosophy
At ISY, our Middle School caters for students in Grades 6, 7, and 8. The purpose and philosophy of our Middle School revolves around nurturing the holistic development of young adolescents during a critical phase of their lives.
Our Middle School aims to provide a supportive and inclusive environment that acknowledges the unique needs and challenges faced by students during this transitional period between Elementary and High School. Our philosophy emphasizes fostering personal growth, intellectual curiosity, and social-emotional well-being. Our Middle School strives to strike a balance between academic rigor and the promotion of compassion, creativity, critical thinking, and the other ISY Learner Attributes.
We encourage exploration and self-discovery, while also fostering a sense of responsibility, resilience, and respect for others. Our ultimate goal is to empower our students to develop their identities, build positive relationships, and acquire the knowledge and skills necessary for success in High School and beyond.
Mr. Mike Simpson
Secondary School Principal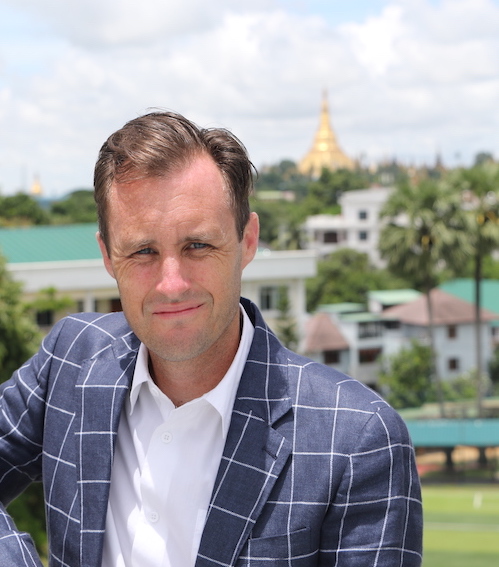 Mission
The International School Yangon is a community of compassionate global citizens.
Vision
We aim to develop lifelong learners who will be a force for positive change in the world.
Middle School Academic Program
All Middle School students take the following subjects: English Language Arts – Social Studies – Mathematics – Science – World Languages (Mandarin or French) – Myanmar Culture, Language, History, and Geography – Visual Art – Music – Physical Education – Health
We have adopted and adapted internationally recognised academic standards for all of these subjects. The following standards have been organized into Grade 6 to 10 continuums:
All Middle School students also have an advisory class once a week to build community, promote the ISY Learner Attributes, and learn important executive functioning and social emotional skills.
Guidance & Counselling
The ISY Guidance Department provides academic, social/emotional, and college/career counseling for all students so they can achieve their academic goals and fulfill the Learner Attributes. Counseling is provided on an individual basis, in small group sessions and in classroom presentations. 
The Secondary School Counselors work closely with teachers, parents and the administration to ensure continued support for students and their families. They also team with community resources and make referrals when needed. If parents have concerns or questions, they may contact the counselor at any time via personal contact, email or by phone. Counselors at ISY provide personal and academic counseling to support student learning and/or social and emotional well-being. Through counseling services, students receive support and learn relevant skills to strengthen resilience, interpersonal and communication skills, and self-worth. Additionally, the counselors serve as a student advocate, and follow safeguarding policies/procedures in order to ensure the safety of all students at ISY. The counselor partners with the grade level teachers, as well as the Wellness team, to teach lessons throughout the school year. In order to optimally address the educational, emotional and social needs of students, the counselor regularly collaborates with parents, teachers, school administrators and professionals in the local community, and makes referrals to outside agencies when necessary.
For more information about guidance and counseling at ISY, please click here.
Inclusion at ISY
Inclusion Statement:
At the International School Yangon (ISY), our community celebrates the unique qualities of each student, fostering an environment where they can truly flourish. We prioritize the holistic development of every learner, supporting their emotional, social, physical, and academic growth to realize their full potential as valuable members of our compassionate global community. ISY is dedicated to providing equitable access to learning and ensuring equal opportunities for personal achievement for all students. By fostering an inclusive educational environment, we empower learners to become independent, lifelong learners who are a force for positive change in our world. 
 ISY Inclusion Admissions Statement:
ISY is committed to catering to learners who exhibit a wide array of learning differences through the implementation of inclusion practices. Our instructional approach is specifically designed to offer the necessary academic support for each student's individual needs. Our priority is to ensure that every student feels a sense of belonging within our inclusive ISY community. 
ISY IB Inclusion Statement:
ISY implements a fully inclusive Diploma Programme; therefore, the inclusion philosophy also aligns with the International Baccalaureate Programme inclusion guidelines. "Inclusion is an ongoing process that aims to increase access and engagement in learning for all students by identifying and removing barriers" (Learning Diversity and Inclusion in the IB Programmes, 2016). It is about responding positively to each individual's unique needs and not marginalizing students because of their differences. Read more here about equity and inclusive education in the IB.
Assessment & Reporting
Just as students will master an academic standard in different ways, their academic achievement and growth against a standard can be assessed in different ways. The two most important factors in assessing academic achievement and growth are fairness and accuracy. To meet a student's needs, a teacher must have a fair and accurate picture of a student's achievement and growth. This will require a combination of tests, assignments, and observations. It is also very important that our students develop an ability to develop self-assessment strategies that promote a belief in their capability, an understanding of their performance, and goal-setting for deeper learning.
Parents and guardians will receive standards-based reports outlining student academic achievement and growth at the end of each academic Quarter. The Quarter 1 and 3 reports are  accompanied by Parent Teacher Conferences that students are also encouraged to attend. These are wonderful opportunities for teachers and parents to share insights into student progress and a very important part in maintaining a teacher-parent-student partnership that will meet the needs of each student.
During the year, at any time, parents and guardians are very welcome to contact teachers directly by email to share any information or ask any questions in relation to their child's development or academic progress. We value open communication with our families and our teachers are always grateful for any information or insight that can help them best meet the needs of their students.
Latest Secondary Blog Posts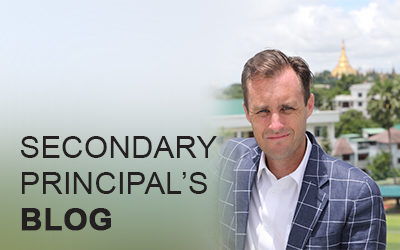 Today, we all benefit greatly from the hard work, high standards, and compassion of those Chinthes who went before us.
The International School Yangon
20 Shwe Taungyar Street
Bahan Township
Yangon, Myanmar
+95 (0) 9 880 441 040