Secondary Principal's Blog

Christina Powers, Secondary School Principal
Middle School Information Session
On Thursday at 6:00 PM on December 10, 2020, the middle school team will be hosting a Middle School information session. The goal of the presentation is to increase understanding of areas of focus within our Middle School.
To ensure that our presentation addresses any specific questions you have about the middle school, please ask your questions by completing this link
. We will try and incorporate your questions into the presentation
.
We look forward to seeing our Middle School Parents at the meeting.
Parent-Teacher Conference Feedback 
We have had very positive feedback from parents about last month's Parent-Teacher Conferences. While it was necessary to move to an online format this term, the online conferences were popular with many parents and teachers. In order to gain a better understanding, please take a moment to provide us with your feedback by responding to this Parent-Teacher Conferences Survey.
Admissions Decisions at Highly Selective Universities
Join the High School Counselor as he dives into the details of how highly selective universities consider making admissions decisions.  Hear directly from admissions directors,  consider real admissions data, and participate in an insightful activity.
Date:
Tuesday, December 8th
Link: To be sent by email on Tuesday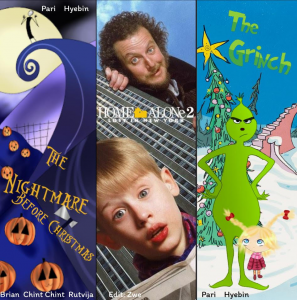 Middle School Movie Night
Friday, December 11, 2020 from 6:30 – 8:00 pm
UWS-ISY Sports-A-Thon
Join us on Saturday, December 12th for the 3rd annual UWS-ISY Sports-A-Thon! This fun active event raises funds for the UWS-ISY Wan Kaung School partnership, allows children in Northern Myanmar to attend school with appropriate supplies and resources. If you are interested in learning more about this amazing program, check out the ISY website.
This year's event will be held virtually, through Zoom, on Saturday, December 12 from 9:00-11:00 AM.
How can you participate?
Set a personal challenge or two. Gather sponsors that will donate when you complete your challenge. Join a zoom meeting on December 12th to complete your challenge. Finally, donate for completing your challenge.

Make a Flipgrid video of your family member(s) completing their physical challenge prior to December 12th and make a donation! Don't know how to use Flipgrid? Watch this video.
Donations will be collected through the ISY Online Ordering System found through your Powerschool account. Here is a video to help explain how to donate!
We appreciate your support and participation!
The International School Yangon
20 Shwe Taungyar Street
Bahan Township
Yangon, Myanmar
+95 1 512 793 /94 /95