Mike Simpson
Secondary School Principal
November 10, 2023
Happy Diwali! Thank you to our Indian parent community who worked with the Swami Vivekanand Cultural Centre, Embassy of India, to organize this wonderful cultural experience for our students.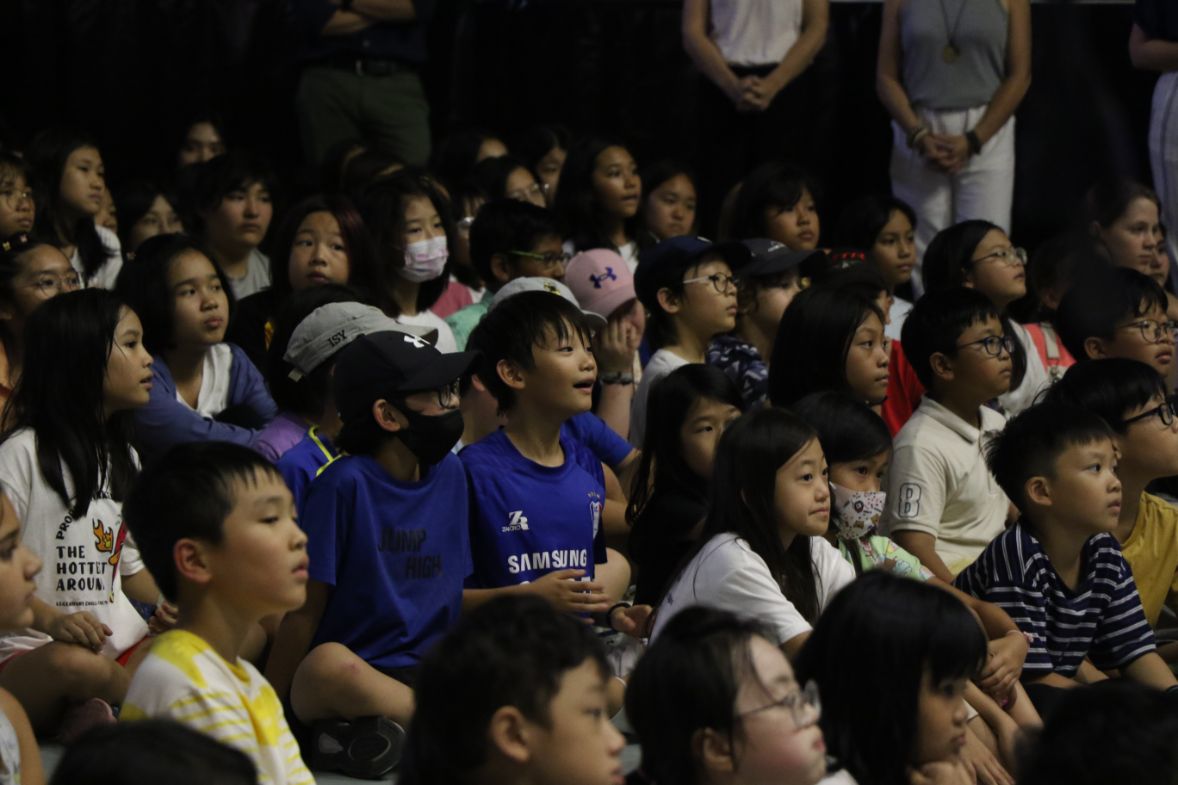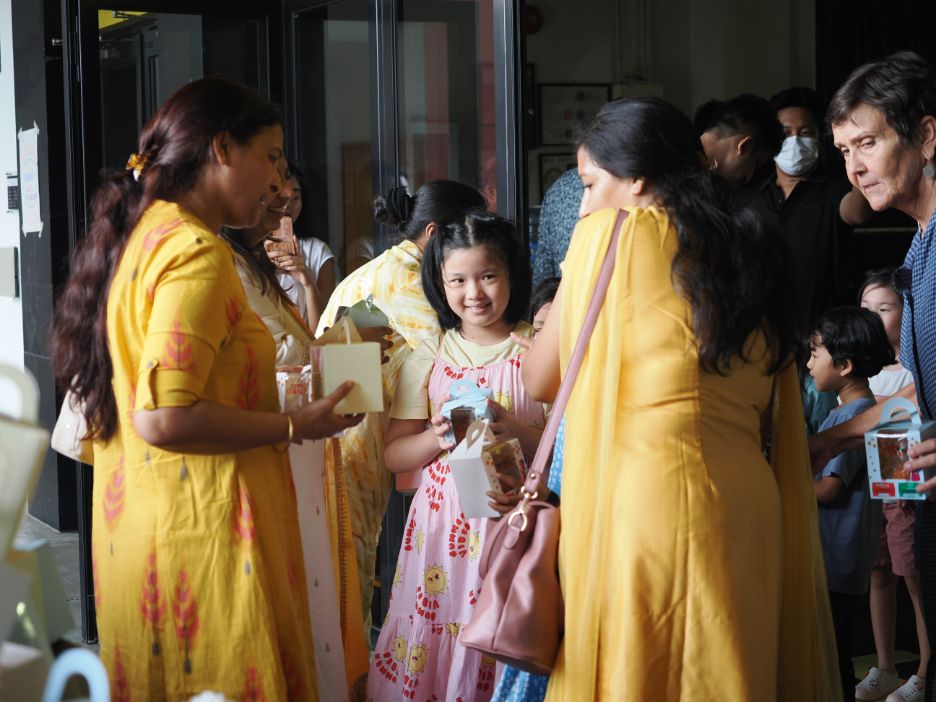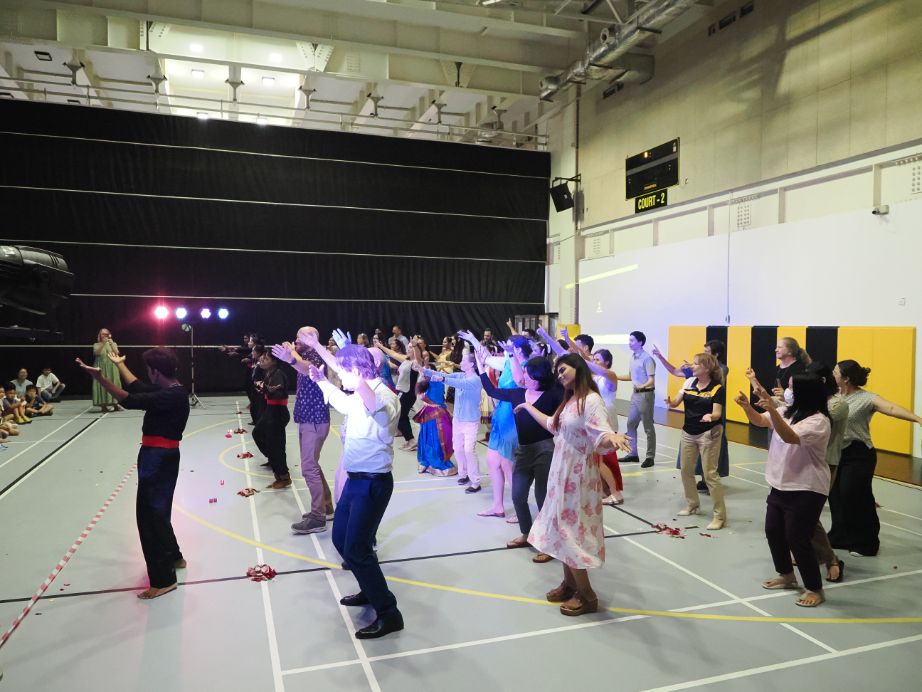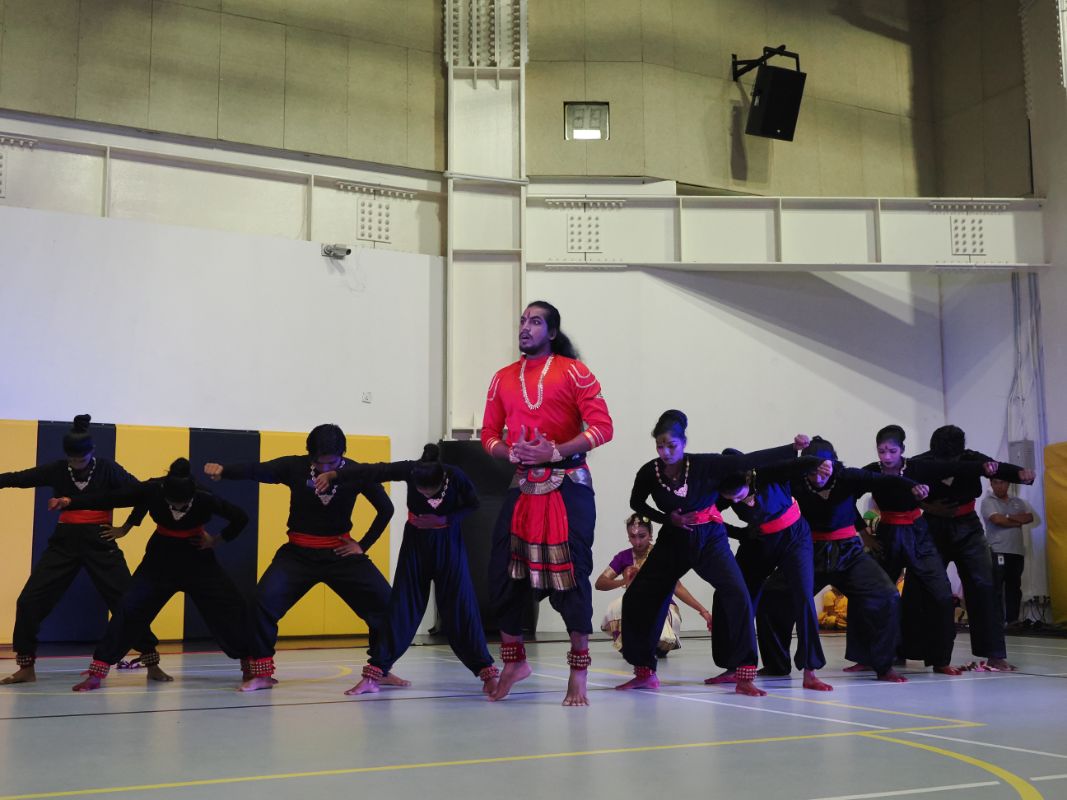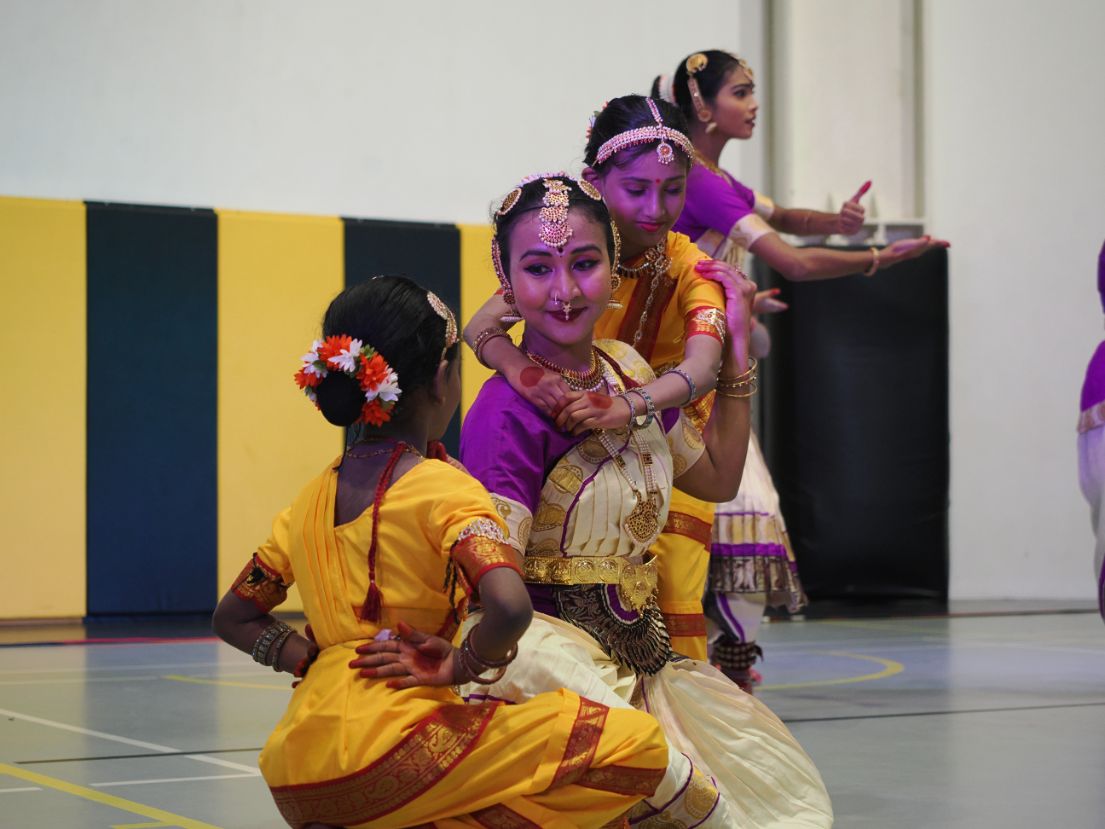 I hope that you had an opportunity to speak with your child's teachers on Wednesday. Parent Teacher Conferences were very well attended and we appreciate your perspective on your child's learning as a parent. After, no-one knows your child as well as you do! Please know that we are always available and very happy for you to share any insights or feedback that might help us best meet your child's needs – academic or otherwise.
This week is a busy week with sporting events and our Chinthe Expedition parent meetings (see below for the schedule). And on Saturday we have one of our annual community highlights – International Day! Thank you to our Parent Association and to everyone who is working so hard to organize this very special day for us. I hope to see you all there!
Secondary School Events
This week:
Saturday (Tomorrow): Yangon City Invitational Football Tournament (HS) at South Dagon Field 
Tuesday:
Chinthe Expedition Meeting at 5:30pm in Multi-Purpose Room: Grades 6, 8, 9
Wednesday:
MS Volleyball v ISM at ISM: 3:30pm

Chinthe Expedition Meeting at 5:30pm in Multi-Purpose Room: Grades 10,12
Thursday:
HS Basketball Friendly v Crane International School at ISY: 3:45pm

HS Football v YIS at ISY: 3:45pm

Chinthe Expedition Meeting at 5:30pm in Multi-Purpose Room: Grades 7, 11
Friday:
HS Football v ILBC at ILBC: 3:30pm
Upcoming Events:
November 18: International Day
November 30: Family Poetry Afternoon (see below for details)
December 11-15: Chinthe Expeditions
Chinthe Expeditions Update
We have been very pleased by the positive response to our return to week without walls in the form of our Chinthe Expeditions programme. We are working very closely with our travel partners, Oway, in finalizing every detail around travel, accommodation and activities. It is very exciting for us to be doing this and thank you to those of you who have contacted us with your questions about your child(ren)'s expedition. Questions are always welcome and are helpful to us.
To provide all of you with more specific information about your child(ren)'s expedition, Grade Level Expedition Meetings will be held at school during the week of November 13-17 on the following schedule.
Grade level meetings have been combined based on how the students will travel to the destinations (bus and/or plane):
Tuesday, November 14 at 5:30pm: Grades 6, 8, 9
Wednesday, November 15 at 5:30pm: Grade 12
Thursday, November 16 at 5:30pm: Grades 7, 10 & 11
All meetings will be held in the Multi-Purpose Room
In these meetings, we will be sharing specific information around travel, accommodation, and activities. We will also be sharing security information and more general information as to how the expedition will run to ensure a fun and safe experience for all.
These meetings will be followed by a summary of each trip that will be emailed to parents. This summary will include a packing list and request for important information.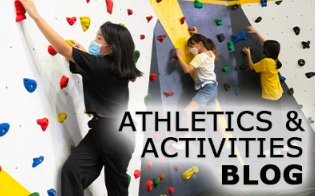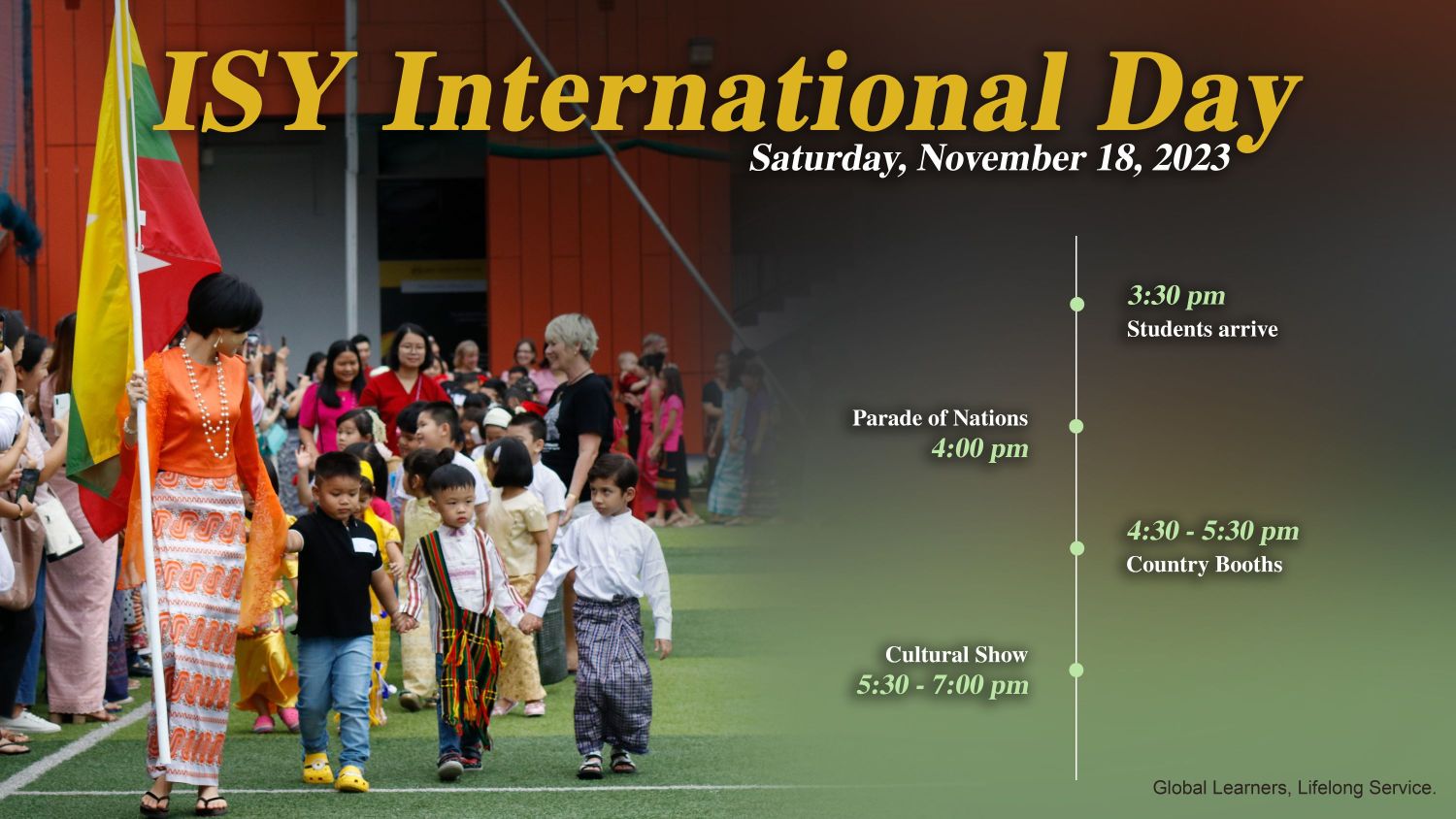 International Day
International Day will take place on Saturday, November 18th. Students are expected to arrive by 3:30 p.m. and go straight to the gym to prepare for the Parade of Nations, which will start at 4 p.m. 
Between 4:30 and 5:30, the country booths will open, where you will be able to sample food and culture from around the world. 
The Cultural Show will start at around 5:30 PM with performances from students in many Grade levels. The show is expected to finish around 7:00 PM. 
Raffle tickets are on sale now for 2,000 Ks. each and can be bought at the business office or through Parent representatives. 
Raffle prizes are still being collected.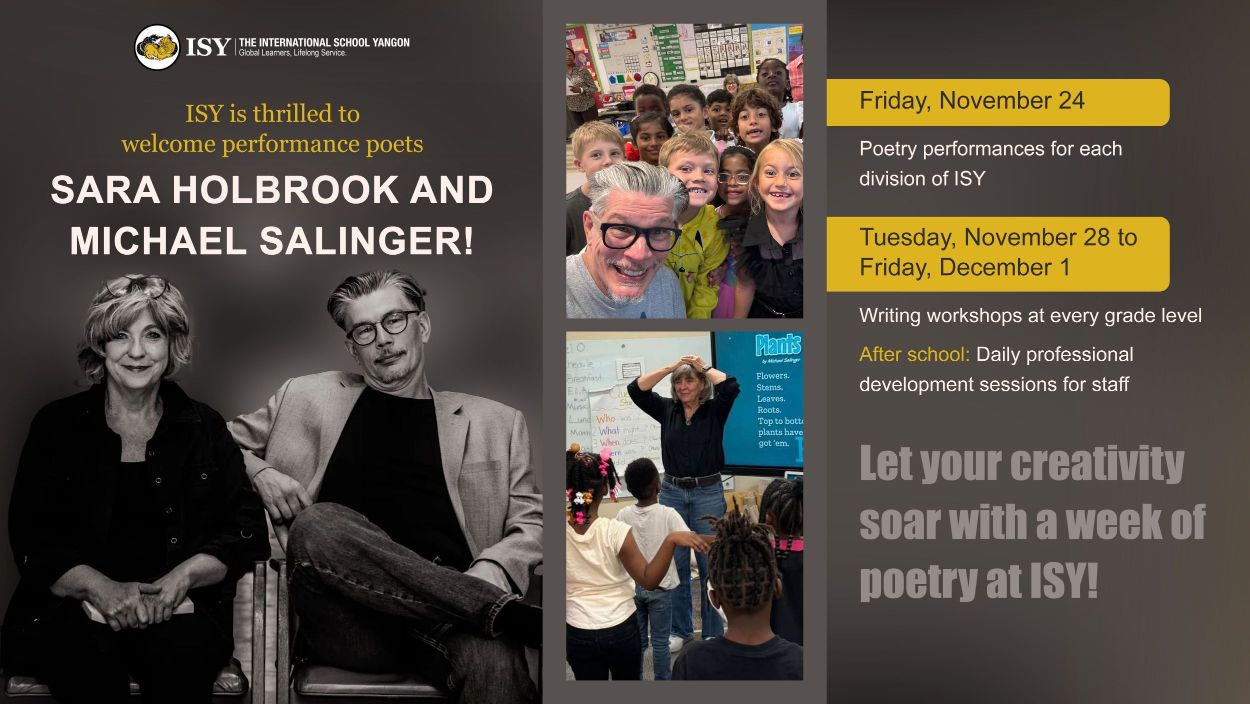 The International School Yangon
20 Shwe Taungyar Street
Bahan Township
Yangon, Myanmar
+95 (0) 9 880 441 040